FlatOut Pancaked: 'Next Car Game' Is Stunning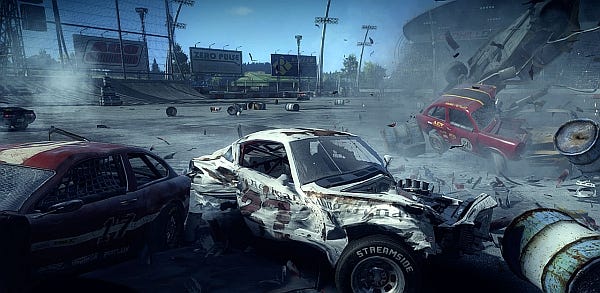 Like a tyre rolling from the twisted, sad mess of a vehicle pile up, I shed a single tear at the awful state of the last FlatOut game. FlatOut 3: Chaos & Destruction wasn't made by the original developers, BugBear, but its existence appears to have angered them into returning to the car crashing games that they love. It doesn't have the FlatOut name, but Next Car Game (not really its name) is the sort of game that you'd imagine they'd make if they had all the physics and all the money. The appear to have the former, but the latter is up to the community.

I just watched the trailer. Spoilers! I like the part where the cars get all smashed, but I also like the part where all the bits of the cars are simulated, turning this arcadey driving game into a debris-strewn, damage-modeled super game. All those bumps and bashes will affect the driving model. And you'll cry tyres, because this is a rustbucket that you've put together yourself.
They're taking this one directly to the community to fund, though there doesn't appear to be a funding goal. It's more of a tiered pre-order system, where you'll get early access. After 10,000 people sign-up, they're promising to release a demo of the game. The alpha is scheduled to be released before the end of the year.
That is seriously sexy looking.