Back On The Net: Football Manager 17 Feature Reveal
Social media, improved AI and more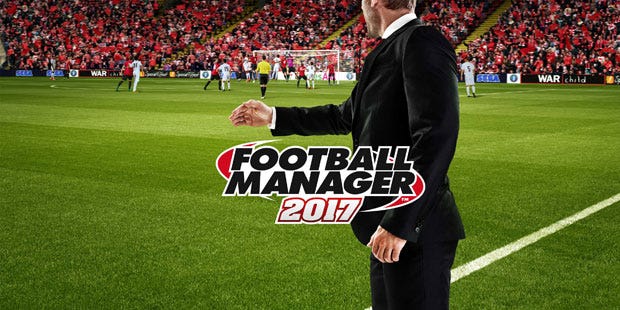 I'm always a little bit upset that I can't play the new version of Football Manager [official site] as soon as the season starts, though I understand the reasons why (namely, the fact that the bloody transfer window doesn't stop when the football starts). Usually I console myself by reading about the new features that I can expect once the game arrives. This year, the feature reveal has been a little later than usual, but it's here now in the form of a half hour video. Social media feeds! Improved transfer and on-pitch intelligence! EXCESSIVE DATA ANALYSIS.
You can watch it below.
This year, there's no marquee signing to my eyes, but there's a lot of (hopefully) strong work on artificial intelligence, both in the transfer market and on the pitch. I'm enough of a Football Manager nerd to be excited by mention of players making split second decisions on a more regular basis, which should lead to more mistakes, more heroics and more credibility. That's what the series lives and dies on, credibility, and anything that makes players behave more convincingly will be a good thing.
The transfer market AI has needed an overhaul for some time now. Play a long-term save and you'll eventually see clubs with holes all over their squad that they fail to address, while buying players for excessive fees that they don't seem to need it all. Again, to be credible the game should have clubs and managers go into weird declines of that sort, but it shouldn't happen consistently, and in the past it has. Sports Interactive reckon they've improved that and if the AI in-match and in the wider world really has come on strongly, I'll be delighted.
I said there wasn't a marquee signing this year, but the closest thing to that is probably the addition of social media. It comes with a broader reworking of the news system, which now incorporates imagery alongside the usual text, can deliver highlights of players during scouting, and sees particularly impressive goals popping up on social media feeds in video form. Adding an entire world of fake twittering might strike a lot of FM fans as pointless, but I'd argue it plays into the credibility (that word again) of the world, showing fan and press feedback in easily digestible snippets, and showing disagreements and conflicting opinions.
Social media is also where transfer rumours will sprout and lay down roots. The entire transfer system seems to have been rewritten, with potential for the enormous, ridiculous sagas that real life football fans (myself included) agonise over during the off-season. Yes, there was a point this summer when I searched for Pogba news whenever I had a spare second. Yes, I'm a silly person. And yes, I very much doubt he's going to make much of a difference against Liverpool on Monday.
There's loads more to see, including a good look at the new match engine with its behind the goal camera angle and fancy animations (PLAYERS HAVE MORE BONES NOW), details on AI managers in fantasy draft, Touch mode (previously Classic), and dealings with the board. The beta will be available soon to anyone who has preordered and if you own previous Football Managers on Steam you'll liable for a discount:
As a 'thank-you' to loyal fans of the series we've worked with our friends at Valve to offer a Steam-only discount of 5% off for every Football Manager game owned on PC, Mac or Linux dating back to Football Manager 2013. This means there's a possible 20% available to fans who own the last 4 versions of the game!
That offer ends tomorrow at midnight UK time, so you've got time to digest the contents of this video first and figure out if you're willing to take the plunge. There will be a half-season demo after release as well, should you prefer to bide your time.