Football Manager 2015 Summer Transfer Update Mod
Be better than Van Gaal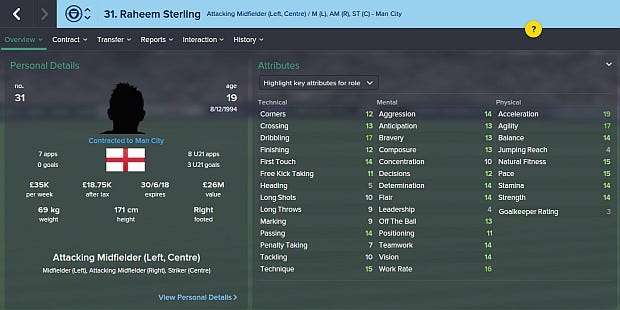 Football Manager 2016 might be just around the corner, but if you're anything like me, you're probably following the new football season and wishing it was here already. Thankfully, Football Manager 2015 [official site] ships with a database editor that has let the community update the game with all the summer transfers. There are two ways to update your game so that Raheem Sterling is at Manchester City, Joey Barton is at Burnley, and David De Gea is... still at Manchester United.
The first and easiest method is via the wonderful Summer Transfers Daily Updates through the FM2015 Steam Workshop. Hit the subscribe button on that page, boot up the game, and start a new career, and you'll find Anthony Martial looking as baffled as you are in the squad list of Manchester United. From browsing through the database, I was unable to find a player in the wrong place, and updates really have been applied daily over the past few weeks to keep it up-to-date not just in England but all over the world. The last update was made two hours ago, too, so anything that is missed - and there's bound to be something - should be fixed soon.
The second, slightly more awkward method is via The FM Whizzkids' Transfer Database Update. This can be downloaded at that link and applied manually by dropping it into your \Documents\Sports Interactive\Football Manager 2015\editor data\. If the folder doesn't exist, just create it. What makes using this one worthwhile despite not being officially available through the Workshop is that it's updated regularly not just during the summer, but throughout the whole year, and has been for successive Football Manager games dating back years.
(If you absolutely must have it through the Workshop, it's uploaded regularly by someone other than its creator here).
Once installed, database updates like these will be automatically selected when you start a new game of Football Manager. If you have multiple updates installed and want to make sure only one is used at a time, you can select "Custom" from the Editor Data Files dropdown on the 'Choose database' dialog box after you've clicked to start a new career. From there you'll be presented with a list of the installed updates and you check or uncheck them as desired.