Build Your Own Offspring: Football Manager 2016
Do a Frankenstein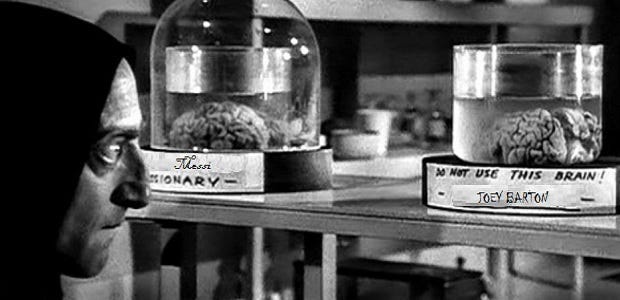 Did you know that you can have children in Football Manager [official site]? Spend enough time in the managerial game and a player appears in the youth ranks of your club, a 'regen' who shares your family name. It's your son, that, and he might go on to be a star. In previous installments, Junior was made up of a random assortment of stats, as likely to be the next Bruno Cheyrou as the next Zinedine Zidane. In this season's release, you'll be able do design your son for the first time.
It's a little known fact that footballers do, in fact, design their sons. Daughters? They're left to chance but every son undergoes a process of stat-buffing, hairpiece modelling and positional awareness training before leaving the delivery room. David Beckham still harbours plans to raise an entire first eleven, each newborn slotted into formation immediately as they enter the world.
In Football Manager, you'll have to wait a little longer. The Design A Sprog feature is only available in the Touch edition of the game - formerly Classic - and a screenshot suggests it unlocks after you've spent 20 years at a club. If that's 20 years at a single club, as the wording suggests, rather than a 20 year career, Designer Sons will be a rare sight. I tend to make one in the editor anyhow and the Create-A-Club feature that's new to the game this year will allow me to make a team of Smiths. Obviously, I'm going to make an RPS team though, with Alice as the flaneur-like Raumdeuter, Alec as a pacey wingback and John as the team's GPS, picking out long range passes from the heart of midfield. Haven't decided on the rest but I'll most likely pop Horace in goal.
This is a little addition, a gimmicky thing, but I think this year should be a good year all round. The hardcore are complaining because of the melty-man avatars,but if the squad-building AI is genuinely improved, and new stat analysis and tactical screens do the trick, I'll be as happy as a clam.
It's the little details that make Football Manager's world so convincing. The way that the 3D match engine visually represents the number of spectators at a game, for example, meaning that lower league grounds will often contain a few lonely blokes standing in an otherwise empty corner of the stands. They don't seem to know one another and shift from foot to foot uncomfortably for an hour, until a goal causes them to burst into motion befitting an excitable Bez.