Hexy roguelikelike For The King launches in full
To the hex, dudes!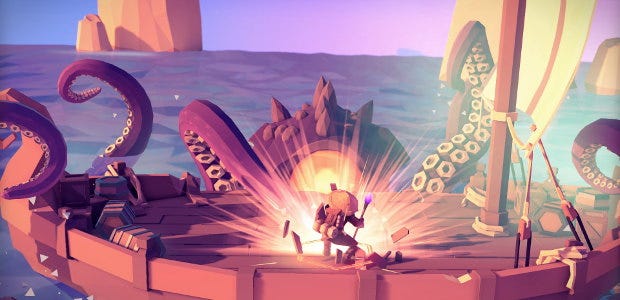 Hex-based roguelikelike action-RPG For The King today completed its fourteen-month adventure through early access and arrived at a full launch. Our Brendan enjoyed what he played even a year ago, so it'll be nice to see how the game has ended up. Check out the pretty little adventure in the launch trailer.
The update bringing For The King out of early access added a whole new adventure, venturing into frosty lands with new enemies, weapons, items, and all that. It also brings male and female skins for all classes, an improved combat timeline in the UI, balance changes, bug fixes, and so on. See the patch notes for more.
While old saves are not compatible with this new version, developers IronOak Games say they will keep an optional legacy branch up on Steam "for a while" so players can finish adventures.
Brendybaby wrote back in March 2017:
"Even the easy mode can slip you up and bash you on the noggin with a gang of wretched sea hags for which you are sorely under-prepared. It feels at times like an old-fashioned turn-based party JRPG that has learned to fight like a roguelike, embracing randomness and strange loot. During one dungeon crawl, Sally McWrecker was only equipped with a shield. One of her options in the fight was to pull out a random weapon from her backpack. She did this and whipped out a glass sword I had received from doing that time-consuming delivery job. I'd forgotten about this weapon. It cut massive chunks of health off the enemies. I was very happy. If I had only read the item's description more thoroughly, I would not have been so surprised when the sword shattered to pieces after one final blow against an unworthy skeleton, who himself shattered to pieces, probably laughing. Sally was again reduced to punching her enemies in the belly with her bare hands.

"It's silly moments like that which harbour the magic of For The King."
For The King is out now on Steam and GOG. A 20% launch discount brings it down to £12.39/€15.99/$15.99.