Fortnite: Battle Royale is getting a new shooting model and special modes
Plunkbat should do this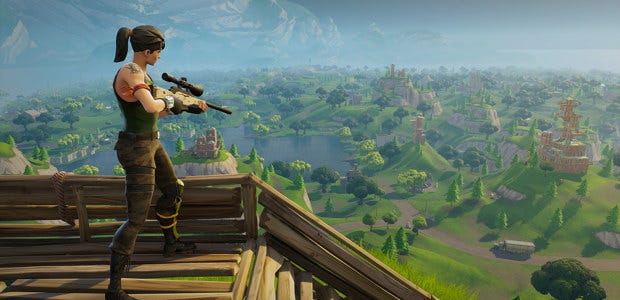 Which is your favourite flavour of Battle Royale? On the one hand, a round of Playerunknown's Battlegrounds offers a deep, tense and immersive experience. On the other hand, Fortnite: Battle Royale lets you surf around on pumpkin rockets.
If you like your 100 player survivor clashes on the wacky side, then you might be interested in the development roadmap the Fortnite devs put up last week, where they talk about what they're currently working on and what's coming to the game in the future. It includes new modes, efforts to deal with team killers, and changes to the way shooting works.
You can see the full list of what's planned by checking out the post yourself, but I'll run you through the most interesting bits here.
What stands out the most to me are their plans to overhaul the shooting. They've currently got an internal build that removes random bullet spread while aiming down sights, with the aim being to "improve shooting while maintaining the usefulness of building cover while under fire and without changing engagement distances or the flow of the game". I'm not sure that it'll be enough to make that core part of the game feel satisfying enough for me, but it's definitely good to see that work is being done on improving it.
The devs are already clamping down on team killing, issuing numerous warnings and bans for offenders that they've got in the past week. The system for reporting them will soon be more simple to use, and will tell you when action has been taken based on a report you made. They also say that they're looking at implementing a system that matches you with players with a high reputation, which sounds a little like Counter Strike: Global Offensive's trust factor matchmaking.
Elsewhere in the post, Limited Time Modes sound interesting. Coming at some point in December, they'll be "temporary experiences with special conditions that provide new ways to play". If the first one sounds interesting enough, I may well re-install the game - it'd be great to play a battle royale game where everyone has the same stupid handicap, a la Playstyle Royale.
I'd love to see that come to Plunkbat, along with a couple of other features the Fortnite devs have planned. This postmatch screen is one of them, which shows how far you travelled, your accuracy, how much damage you did and other interesting bits and pieces.
There's plenty more stuff in the roadmap that I haven't gone into, including audio tweaks, map updates, cosmetics, performance optimisation and more.
Still trying to get to grips with Fortnite? Check out our Fortnite guide hub for more tips and tricks for the game. You can also find the latest challenges in our Fortnite week 6 challenges guide.