Free games of the week
Typing, golf, nightmares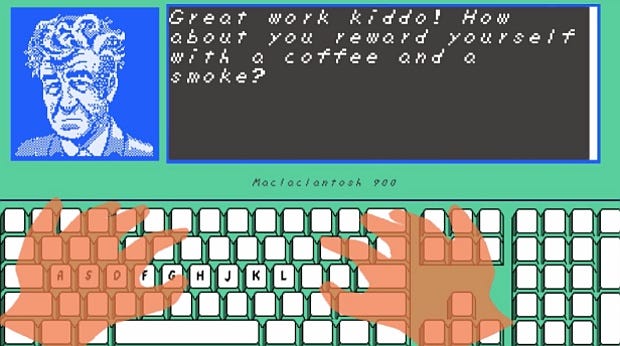 Remember in school when your teacher would have you play those typing games, just to learn how to use a keyboard? Imagine if instead of your teacher it was filmmaker David Lynch teaching you everything you need to know about typing. Maybe then you would have paid more attention! You can find out if that's the case via one of this week's free games. However, If you already know how to type, you could also learn how to play a new type of golf, explore a puzzle filled dungeon, start your own conspiracies through Twitter, or lead a team through a post-disaster world. All of these amazing worlds are buried below.
Looking for more free games? Check out our round up of the best free PC games that you can download and play right now.
David Lynch Teaches Typing by Rhino Stew Productions
Ever wanted to learn how to type faster and more efficiently? David Lynch Teaches Typing is probably what you have been looking for. David Lynch isn't qualified to teach you, but his voice is soothing and typing isn't that hard anyway. This typing software doesn't seem to be totally correct though - soon after you learn the basics, a bug starts to appear. A literal bug. And David Lynch wants you to touch it.
From there, things take a strange and slightly uncomfortable turn. Maybe you won't learn typing after all, and maybe in truth David isn't in a good place either. He also might not really understand what typing is. Either way, you might want to play this game through and see just how weird a typing game can become.
What The Golf? [Prototype] by Triband
If you don't want to explore the strange and frankly uncomfortable world around David Lynch, you might be inclined to play this simple golf-based game in which you get to 'golf' everything. At first, it's quite basic - hitting golf balls into the flag and moving onto the next level in a charming, 3D world.
Soon, it's not just golf balls you will be trying to get into the goal. You can play golf with golf clubs, houses, and even humans. Then the game switches to a golf-soccer hybrid that sees you launching the ball several times to avoid children and score a goal. You can also just bash your ball/human/whatever into various strange objects on the course to see what happens. What The Golf? is wacky and fun, though in this prototype you only get a taste as the full game has now been crowdfunded. Until that's out, enjoy this peek into everything you wish golf was.
Knightin' by Wolod
Another super fun game for you! This time it's a Zelda-inspired dungeon crawler with some puzzles thrown in to mix things up. You are a knight trying to make their way through a dungeon. There are various rooms full of monsters such as slimes, mushrooms, and flying skulls, as well as puzzles, and even some shops to acquire items from. Like most dungeon crawlers, killing enemies and opening chests can give you coins that can be used at these shops. As you explore around, you also can gain major items like a shield and sword to help you survive for longer.
Puzzles are dotted around the dungeon - some are activated by QR codes, others from taking clues that are observable around you, but all of them will take a bit of guessing and trying to take in everything you can see. You are also able to travel between floors, so that you can find things you may have missed before or you may need now that you are on a new level.
Bad News by DROG
Bad News is a text based game that plays around with the idea of fake news being spread via Twitter, putting you in the hands of someone who can gain enough experience and followers to create a national conspiracy. You have a guide on this adventure, providing you with tips on what to do and how to tweet in order to make the biggest impact, but many of these decisions are down to you.
Depending on what type of commotion you'd like to stir up, you can follow various paths like impersonating a celebrity, running a website, or just being loud on the internet. You can make conspiracy theories, heat up arguments, accuse other people of strange acts, and cause a commotion while gaining credibility and followers. Some of your decisions will decrease your following and credibility, while others will help these grow. As you learn to maximize your growth and your strengths, you will earn badges that show off how just much your influence has grown.
Bad News does ask you to take part in a survey, which happens at the beginning, and at the end of the game, in order to see what you have learned about spotting fake tweets. You can, of course, opt out of this and just play the game if you wish.
Sacrament iv by Colin & Nicolo
Following the text driven theme of the last game, Sacrament iv is an intense, text based RPG that takes place in a post-disaster world. You are leading a small group of agents into ground zero of a disaster zone. There isn't much left of the world, and everything around you is covered in smoke. But somewhere... lurking out there... are nightmares.
Nightmare creatures seem to be the only thing alive - and they want to make sure you don't live any longer. You and your team can battle them whenever you run into them, but mainly you will be exploring everywhere and trying to understand your own psyche. There is a lot of pressure on you and the world seems to be in a dire state. Your thoughts and ideas reflect this instability. The story around Sacrament iv is laced with horror and you're undeniably unstable, but through it all you're meant to be leading a team and be responsible for their lives. Hopefully, you will all make it out of this mission alive.