Free Loaders: Meat the monsters
The best free games of the week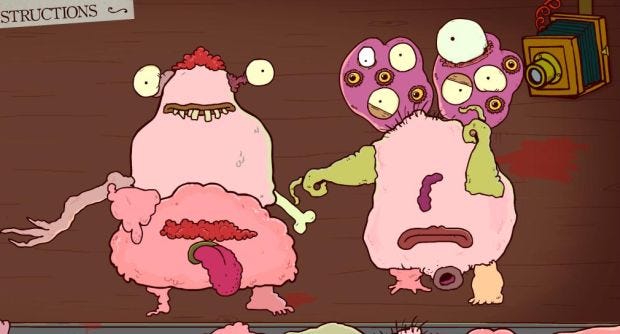 If you are reeling from a Good Friday without delicious burgers, chops or anything meaty at all, don't worry, we've got you covered (and the rest of you heathens too, don't fret). This week's best free games include one in which you make monsters out of various pieces of cartoon meat – kidneys, skin flesh, chicken legs, eyeballs. Are eyeballs "meat"? Don't ask me, I'm a gamesmonger, not a butcher.

Looking for more free games? Check out our round up of the best free PC games that you can download and play right now.
Bertram Fiddle and the Inexplicable Meat Mound by Bertram Fiddle
Disgusting meat builder. Here you are, a dozen or so pieces of various meats that can be arranged and placed in any position. You know what to do. Vast monstrosities or tiny reptilian creepers, build the meat beast of your dreams (finally!) with this free form butchery. Pull the cord to order more meat bits and press the camera to save a photograph. I made the romantic couple you see in the image at the top of the post. I call them Dermot and Dearbhla. She has all the eyes, yes, but he has the groin-tongue, a much sought appendage within the monster community. I'm certain you can come up with some wonderful creatures of your own. This reminds me of the joyful body-scrambling of Anatomically Incorrect Dinosaurs but without the screaming voices.
Self-control by A crowd of Enjmin students
Group photo-em-up. Your boss wants you to take photographs of the work party this evening and he is insistent that everyone is included in the pictures. Use the gamepad buttons to call out to your colour-coordinated colleagues (B for the red girl, Y for the yellow guy, etc) and then snap a photo when the camera shows them looking at you. The drinks flow and the photos keep on snapping. But nights out have a tendency to get messy.
Asciirush by BearsInMind
Speedy ASCII spelunking. The poor @ sign has once again found himself in trouble. Is there any game protagonist with a more troubled existence? You're underground and have to mine your way out. But the ceiling is out of your reach and you need materials to make the jetpack, hook, arrows and fuel that will get you out of this mess. All those materials are below you, deeper into the cavern. It's a matter of going right down to come back up. Most of the trouble comes in learning the symbols and what they stand for – 'm' for metal, '=' for wood, 'A' for gold and so on.
Mine deep and stockpile everything you can for crafting purposes. Attach arrows to your hook and fire it upward for a lifeline in deep caverns. This is a speedrunning game insofar as it has leaderboards and a daily challenge. I ended up at the very bottom of the map without the necessary wood to make more arrows, resulting in a stranded restart. Learn from my skeleton, fair @ sign. Do not become a victim to haste, but make haste your own quarry.
What If Platformers Were RPGs? by joqlepecheur
A pertinent question, given form. RPGs have lots of good elements and their influence has long been seeping into other genres. But what if platformers took the relentless number-plussing of RPGs to its logical conclusion? What kind of game would that make? And would it be any good?
No. Not really. But at least now we know, and we have this experiment to thank.
Kingdom Clicker by Tapehead
Oh now I get it! There's been a clicker game jam. The Cookie Clickers and Candy Boxes of the world have young and spry new rivals, tiny and scrappy and dripping with clicks. This one is very good-looking. You have to click your kingdom into the future with wood, stone, coin, and food. It is the same as all clickers. And I suspect that is source of the joy.
Thursday by Kaitlin Tremblay
Short twine about eating and kissing. Or rather, a short twine game about having problems with eating and, later, kissing. I don't really know what to say about this, as it's a brief waltz through territory I'm not really familiar with. But there's something about the vignette that tugs at the old sad glands, and I'm sure there are folks for whom it'll resonate for their own reasons.
Wavejump by BearsInMind (again)
These greedy sods have two games in the roundup. This one is a 2-player blob battler in which you can only move around and hop to produce a "wave". If you are struck by your opponents wave, that's it, you're dead. Hide behind pillars and corners to disrupt the wave and come out with your own wave blasting. You can also press space to change the colour palette. There's three types of fighty blob with different kinds of wave shapes and behaviours. I like the fat slow one who makes waves that stutter across the map. He's grumpy looking and I identify with being a grumpy blob.