Free-to-play FPS Dirty Bomb officially launches after years in open beta
Another post-Brexit possibility?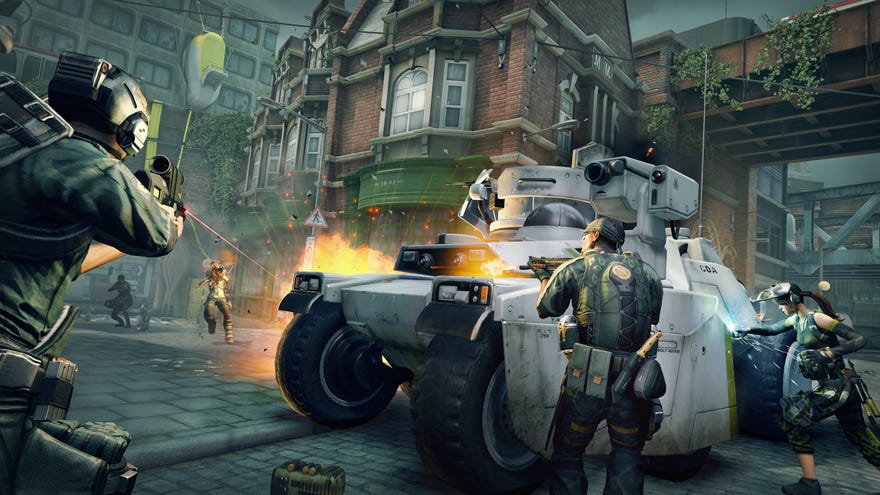 Free-to-play team shooter Dirty Bomb has been around for yonks now, so it feels weird to say that the game is 'out now', but after more than three years of open beta, the competitive FPS has finally reached version 1.0, although the changes in the launch version are surprisingly slight.
Set in a nuclear-ravaged future London, this class-based shooter puts players in the boots of 23 high-tech mercenaries. There's robo-tanks to escort, people to shoot in the face and no small amount of grind involved if you want to permanently unlock all your favourite characters. It's also good fun, playing like a blend of Counter-Strike and Team Fortress 2, with a little bit of developer Splash Damage's earlier Wolfenstein: Enemy Territory and Brink in there too.
While Dirty Bomb isn't a massively popular esports hit, it remains well populated at most hours. Those poking their head in for this week's launch should find no problem finding people to play with - there's a server browser and team sizes are small. There are two primary playmodes - Objective and Stopwatch - both based around completing map-specific goals, plus a third that's exclusive to player-hosted servers. Returning with the 1.0 update, community servers can run the Counter-Strike styled Execution mode. It's familiar stuff; no respawns, two bomb targets.
Aside from the return of Execution, version 1.0 doesn't bring an enormous amount to the game. Steam trading is now enabled for the game, although only for weapon skins at present. Developers Splash Damage have also added integration with esports social network FaceIt. While of little use to me (I am rubbish at just about any twitch multiplayer shooter) it does add some useful features for more serious players, like drafting. Organised players can now play without duplicate characters or ban particularly loathed ones from being picked by the enemy.
Dirty Bomb is available on Steam here, and is free to play. New players will start with a handful of goodies and a 14-day credit booster, while returning veterans will get that plus a little cosmetic open beta trinket, if you log in within the next two weeks. You can see the full version 1.0 release notes here.