Freeware Garden: Beneath The Crimson Moon
Poe-tic.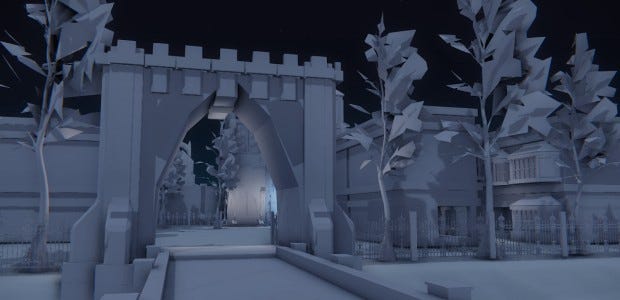 Chances are that the average nightmare of an architect looks a bit like Beneath The Crimson Moon, but in this instance the nightmare is narrated by a guilty old woman on her deathbed dreaming she's a girl. A woman who has run from that guilt for decades and is now finally and cruelly forced to confront it.
Looking for more free games? Check out our round up of the best free PC games that you can download and play right now.
Beneath The Crimson Moon tells the story of Minerva Canstone and her mistakes. A story about pain, science, religion, death, solitude and even class differences. After all, its main inspiration is none other than Edgar Allan Poe's Masque of the Red Death and it shows beautifully.
Being an exploration game at heart, one with expert voice narration, Beneath The Crimson Moon lets you control the pace of its exposition and look around every little corner of its wonderfully sculpted urban environments, while both regulating said pace and forcing you to think by introducing obstacles to overcome. The game plays like a puzzle version of Dear Esther and this proves to be a wise idea masterfully implemented, as the storytelling feels less forced.
Besides, the main mechanic of destroying objects in order to gather materials and build everything from bridges to ladders, ties in perfectly with the game's mantra "to progress you must build, to build you must destroy".
The fact that Beneath The Crimson Moon also happens to be a stunning game with unique aesthetics further helps with the otherworldly, sad atmosphere. The white, intricate buildings, the subtly odd and eclectic architecture that fuses elements of both baroque and gothic styles, the intense splashes of colour and the blood red water all look amazing. And wait until you just peek above those white roofs and into the night sky and see the imposing cathedral looming behind them.
Add in a few excellently directed set pieces I won't spoil (though I will suggest you take a peek at the trailer) and some lovely tunes to accompany you in the game's deserted streets and you've got a truly wonderful offering you should definitely experience.
[Beneath the Crimson Moon was created for the Off The Map Competition at GameCity 2014 which was hosted by The British Library, CryTek, and GameCity. You can download it for Windows on itch.io and moddb.]