Freeware Garden: Die Sieben Raben
Hellboy-inspired interactive comic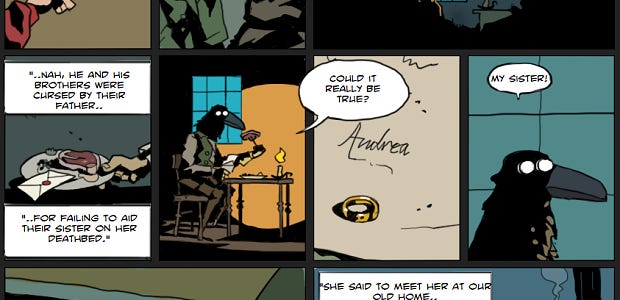 The year is 1876. The place Copenhagen, Denmark. The game Die Sieben Raben by Jón Kristinsson and it really does seem that mysterious gentleman Mr. Amsel has just gotten a most important and plot-forwarding letter.
Looking for more free games? Check out our round up of the best free PC games that you can download and play right now.
But, with this (Die Sieben Raben, that is) being the particularly short game it is, I have decided to not divulge another thing about the story it so masterfully tells, though I will admit it did tickle my perverted sense of humour. And, yes, I laughed. Despite its obviously dark-ish overtones, the looming sadness and grim illustrations I laughed. And then played it again, chose differently and laughed again.
Die Sieben Raben, German for The Seven Ravens, is loosely based on the Grimm fairytale of the same name and also happens to be a choose-your-own-adventure offering that decided to present itself as an interactive graphic novel. One very obviously inspired by the style of Hellboy too, in which you'll get to click on speech bubbles and images instead of the more traditional text.
The game was created for the Public Domain Jam and is powered by Twine something very Twine-like. You can and thus should enjoy it in the debatable comfort of your browser.