Freeware Garden: Fork Parker's Holiday Profit Hike
Because it's Christmas.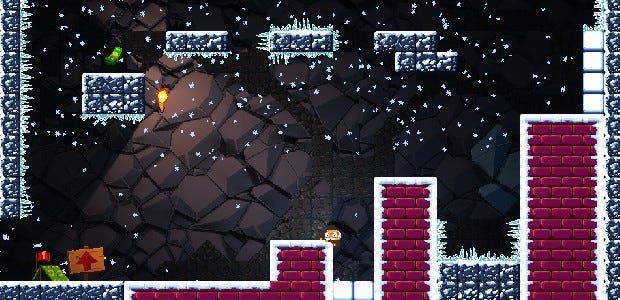 Fork Parker's Holiday Profit Hike may just be one of the best known freeware games recently released, being a little something by indie mega label Devolver. It's also, yes, a holiday-themed game, but that's okay - I'm pretty certain there's a blizzard waiting to happen somewhere in the coming months. It's too good to ignore, anyway.
Fork Parker's platformer is built around Devolver's balding CFO mascot's attempts to climb a snowy and rather festive mountain of money in a cunning bid to help raise his company's revenue. Among the lovely pixelated graphics, happy enemies and spiky spikes, Mr. Parker will try to collect wads of cash and avoid any falls that might lead to ludicrous medical bills.
Looking for more free games? Check out our round up of the best free PC games that you can download and play right now.
To do so this mighty fine capitalist will jump and throw pitons around. Pitons that are connected by ropes and can be used to reach higher places, though I will admit to also using them as safety nets when possible, for this is a difficult game. And I really do love it and hope to someday finish it and get to see all the lovable goodies the Steam blurb promises, namely: snow, helicopters, ugly holiday sweaters, non-denominational penguins, a title screen, dope beats, ethics, torches, reverse monetization, hot tubs, non-candied canes, falling, ropes, and non-refundable holiday cheer.