Freeware Garden: Our Personal Space
Space Wedding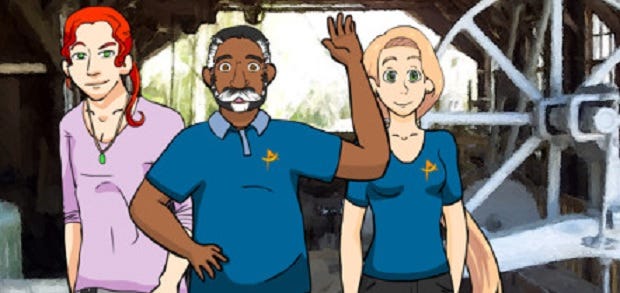 You are Kelly. You are the newlywed doctor who's in love with charming Jack and has followed him to far away planet Talaam. It's a place that excellent sci-fi marriage simulation Our Personal Space [alternate download link] lets you live in, explore and influence.
Looking for more free games? Check out our round up of the best free PC games that you can download and play right now.
You are, after all, a colonist in a small, young settlement, and your choices will not only affect your relationship but also the lives of everyone around you.
Being the only doctor among 200 people is quite the responsibility and while Jack toils to make the land bloom following his romanticized pastoral dream, it's up to you to make your personal and societal space something worth living in. Possibly even something worth living for.
It's up to you and the choices you make to help this wonderful game tell a tale of hope. A tale of cooperation, peaceful, interesting lives, democracy, love and community in a science fiction setting that masterfully blends future technologies with historical frontier sensibilities; thankfully this time without the brutal slaughter of indigenous peoples.
Our Personal Space is both well-written and relatable. The challenges a strong relationship and other people pose are always complicated. Even more so on an alien planet and in a game filled with plot twists, moral dilemmas and everyday difficulties that could lead anywhere.
Of course nothing is easy and nobody is perfect. The first time I ran into farmers viciously arguing and personally insulting each other over where a meeting should take place, I was sincerely infuriated at them, only to eventually decide I loved just how real this community of fleshed-out NPCs felt.
I also loved the game's structure. After a lengthy introduction where you get to make more than a few meaningful choices, you settle in the relatively cut-off little corner of the universe you'll get to call home and start organizing your life. You have 25 months, at the beginning of each you'll be deciding how to spend your free time, whether you'll be working hard or not, and how to develop your personality and skills.
Each choice will not only affect the way Kelly evolves and grows, but also pick a new story for you to choose your way through. Yes, that does imply there are lots of stories for you to experience and roughly 100,000 well selected words to read through -- you definitely won't experience everything in a single playthrough.
Our Personal Space has obviously been a labour of love and talent that took Rachel Helps, Clarissa Helps and Andrea Landaker two-and-a-half years to craft, and you must set an afternoon aside to properly and fully enjoy it.