Frozen Synapse Prime PC Announced, Reforges Original
Rebalances, redesigns, reads, is rad.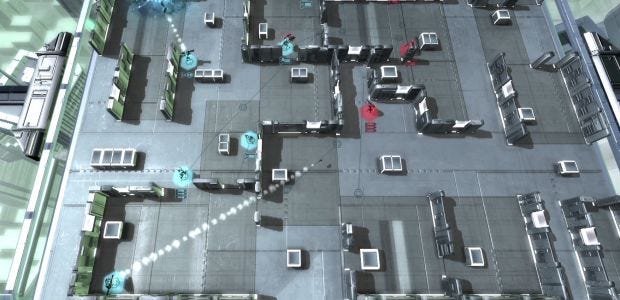 Hang on, that's not the contrasting green, blue and red I'm used to! There's been a robbery of extreme colour, replacing it with bluish greys and skyline backdrops! Just one of the changes made to Frozen Synapse in the Prime version that's coming to Steam on November 14th. It's a port of the Vita, uh, port with some added goodies. I actually quite like the old Synapse art, it's simple but unique and nicely abstracted enough from the usually quite extreme violence being committed. Fit the tactical feel of the game as a whole, too. The other changes are less controversial and there's a trailer to show them off.
Developers Double Eleven, who've worked on a host of console ports previously, bring word that the Steam version includes Arena Mode, which they've detailed thusly:
Maps, squads and unit placements are not random in the new Arena matches, but created and balanced specifically for some awesome new multiplayer showdowns.

The Arena maps were conceived by our most devious designers, to challenge players to strategize a little differently, combine the strengths of your squad in new ways, and utilize the terrain like never before.
There's an ongoing vote for which ones should be included in the game on the Steam community page.
Along with the graphical overhaul, there's a big list of changes from the original game. The highlights are a rebalanced and redesigned campaign, which was originally fun but did have a habit of dragging and a jagged difficulty curve. It's also pulled from all 40+ missions that were in the base game plus it's Red expansion pack. There's also new commands available for units and improved AI, meaning smarter instructions and better reactions.
No word yet on what it'll cost or if there'll be a discount for those who own the original, but keep an eye on the Steam page. I'll likely be using it as an excuse to dive back into Synapse, which was always quietly one of my favourite games of the past couple of years to play in quick bursts. It's as close to top-down Counter-Strike as I've found a game to get, its mechanics and best tactics shared between the two games.