Vroom! Full Throttle Remastered roars out today
Is this the legacy of too much for too few that I see?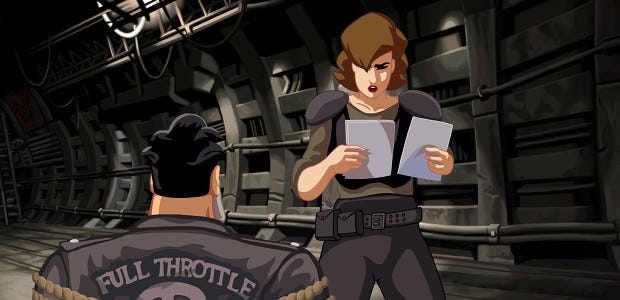 Today I'm wearing my leather jacket and trying to convince Cara to bop me with a plank then toss me into a bin, celebrating the launch of Full Throttle Remastered [official site]. Tim Schafer's Double Fine Productions have updated and re-released LucasArts' 1995 stonking adventure game, which Tim Tam led development on back in his LucasArts days. Parts of Full Throttle always niggled and annoyed but it rose well above them, and I'm hopeful that still holds true. I can't think of any game in the past 22 years which has surpassed Full Throttle's opening, for starters.
Full Throttle is a point 'n' clicker about bikers and family in a strange future, unfolding as gang leader Ben finds himself framed for murder and -- worse! -- his bike trashed. Ben adventures across the dystopian desert to clear his name and catch the killer, getting into scrapes, driving in a demolition derby, making friends, and solving puzzles along the way. More than many of its contemporaries, Full Throttle is into cinematic adventuring and heartstring-tugging over head-scratching. Cara had a good look at the central relationship a few years back.
While I'm sure parts will have aged ungracefully, its style, heart, setting, and tunes still seem smashing.
Double Fine have fancied up this re-release with redrawn art (and re-rendered cutscenes), remastered sound and music, and a commentary track. As is customary, it'll have options to mix-and-match Remastered and original bits. I might turn off the new art myself. The combat will still be rubbish and certain puzzles still wonky but heck, it's still Full Throttle.
A small launch discount brings Full Throttle Remastered to £8.79/11,99€/$11.99. It's already out on GOG and will hit Steam later today. I'm delighted to see it readily/legally available again.