Gazing In Astonishment: Naval Warfare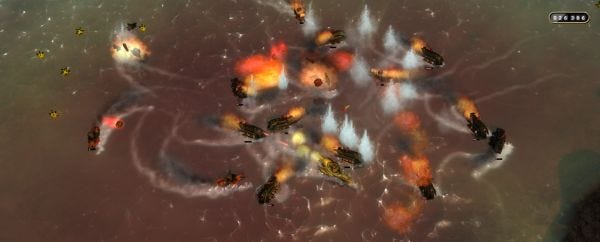 When seeing the game name "Naval Warfare", my instinct is to reach for the bright red phone that directly connects to Tim Stone. Then I clicked play on the trailer, and my hand hesitated on the receiver. This one... this one's for me, I realised. It's utterly mentile. I implore you to watch the trailer below, and to stick with the non-stop festival of crazy gibberish that narrates an arcadey water-based shooter, until the very end. That cackle.
From German publishers Just A Game, and Slovakian developers Games Distillery, this looks to boat battling what Attack On Pearl Harbour is to aeronautics. Except way more mad. Just watch:
Seemingly called Aqua on XBLA, why it's been changed to such a peculiarly generic name for the PC release I'm not sure. It was also apparently released in April, but its own site doesn't say where to buy it. And the trailer was released, er, today. But there's plans to release it via digital distribution some time this month.
According to the publishers, Naval Warfare will see the player,
"take control of an elite cruiser and steer into the middle of a raging naval war where masses of enemies and allies engage in real-time operations. Being attacked from above and below the water surface the player has to destroy masses of enemies' troops to be victorious. By unlocking new ship-types, weapons and upgrades, the player will have the opportunity to enhance his ship and gear up for the next fight. Choosing from various tactics and forming special supporting squadrons, the player will also have the option to command offensive and defensive troops in order to overcome large enemy formations and defensive installations."
Can't wait!