Giana Sisters: Twisted Dreams Gets Competitive Mode
Head to freakishly colourful head.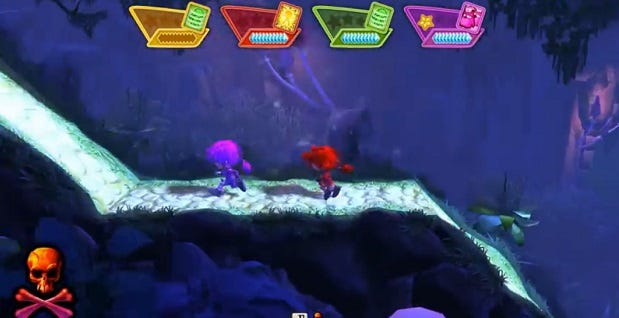 Giana Sisters: Twisted Dreams was a Kickstarter platform game that John liked but didn't love: the former because of the satisfaction of learning each Sister's special skills, the latter because of issues like repetitiveness. If you're of the same mindset and was gunning for an opportunity to do more with the game, developers Black Forest has just the thing for you: a competitive multiplayer mode.
The latest update in a long list, the new patch will now allow up to 4 players to go head-to-head in local PvP. The objective? To race towards the finished line, while shoving other Skittle-colored people off-screen. It looks like you'll have access to the usual bevy of abilities, stuff seen in other "competitive arena racing" modes: boosters, power-ups, running, dashing, head-bonking, cannonballs, bullets. I can't decide whether this is a racing game or a competitive speedrunning game, or what the difference between those things is.
I haven't played the original game, and so I feel strangely suspicious of the characters. So vivid, so colorful. Am I the only person who thinks that they all look like fast-moving gummy people, just an atom's breadth away from being om-nom-nomed by a smiling face at the end of the level?