Gorn: batter muscular men in VR next month
Are you not entertained?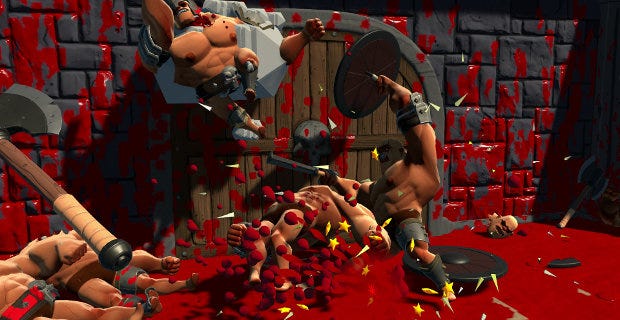 Not to be confused with the big alien lizard that once threw a polystyrene boulder at Captain Kirk, Gorn [official site] is a gladiatorial VR game from Broforce and Genital Jousting developers Free Lives. It looks exceedingly bloody and silly, and it's coming to the Vive via Steam Early Access on July 10. Check out the trailer below.
Crikey. Those poor, bald, muscular men. They probably have bald, muscular families waiting for them back home. On the other hand, battering them does look like a great deal of gory, violent fun.
Publisher Devolver Digital promises an infinite supply of "poorly-animated" gladiators just waiting to be maimed and murdered with everything from swords and bows to nunchucks or even your own hands. Also, expect to be able to rip off limbs and brutalise foes with their own flaccid arms.
Unfortunately, it doesn't look like Gorn's nightmarish audience, all angry floating heads, have stuck around. You can see them baying for blood, along with lots of grisly combat, in the Rooster Teeth Let's Play from last year.