Mexican metroidvania Guacamelee! 2 dives into the ring next month
The chickens have eyes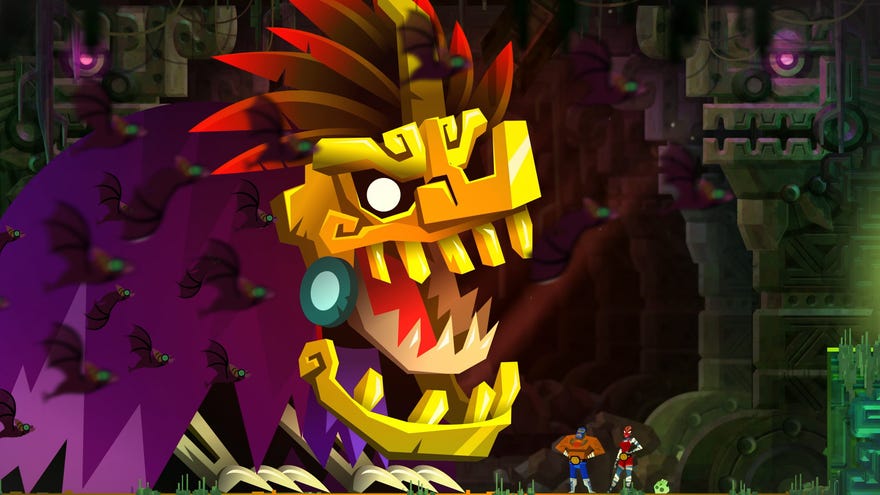 Drinkbox's Guacamelee was one of the most enthusiastically fun metroidvanias released in recent years. Its bright and distinct world of Mexican mythology, Lucha Libre wrestling and terrible puns (plus tired memes, but we'll just gloss over that) were a joy to bounce, dropkick and people's elbow through. As such, it's no surprise I'm entirely on board for its sequel, Guacamelee! 2, now due out on August 21st. We've even got an updated trailer for you below, full of suplexed skellingtons, mariachi melodies and cartoon chickens.
The driving ethos behind Guacamelee! 2 seems to be 'more of the same and then some'. Everything just looks bigger. Levels look more spacious and the baddies chunkier in order to support the addition of 4-player (local) co-op. There's a new cast of villains to wrestle with (across a multi-dimensional 'Mexiverse' - their word, not mine), a bunch of new moves to learn, and probably a lot more spikes to stupidly air-dash into, if my experience with the first game was any indication of things to come.
Every time I see Guacamelee! 2 (or the first game, for that matter), I'm reminded of just how boring it is to have an endless procession of elves, orcs and goblins in games when there's an entire world of mythologies that we've barely seen touched on in games. Part of why I'm excited for the upcoming platform-RPG Indivisible and its world of Southeast Asian myth and magic. The other part is that Mexican wrestling is just plain fun for the whole family.
Drinkbox remain adamant that Guacamelee! 2 contains no ancient, secretive chicken societies, eager to teach you their forgotten and spooky chicken arts. So don't go looking for any, because you won't find them. They'll find you.
Guacamelee! 2 is out on August 21st, and you can find it on Steam here.