Have You Played... Guacamelee?
Ava-hard-go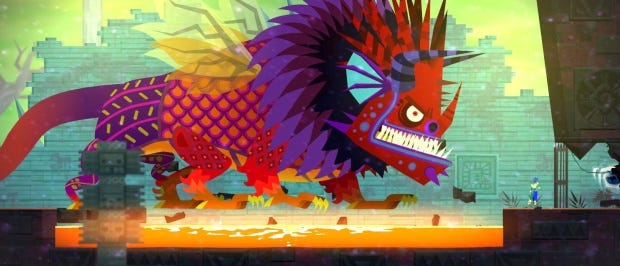 Have You Played? is an endless stream of game retrospectives. One a day, every day of the year, perhaps for all time.
Guacamelee is a wonderful game, a superb Metroidvania, and a real tedious pile of boss fights.
I know I get into this a lot, but it isn't getting any better. Boss fights entertain people who like boss fights, but exist only to spoil games for everyone else who doesn't. So I think it's great that boss fights are being caged in their own little games like your Dark Bloodbornes. Sadly it's not resulting in their disappearing from everywhere else - or, better, becoming skippable.
Gosh, Guacamelee would have been close to perfect if the dumb difficulty spike bosses had been skippable. As it is, it's slightly farther away from perfect, but still really rather bloody good. I say why right here.