PC Powerslam: Guacamelee Super Turbo Championship
New areas, abilities, and enemies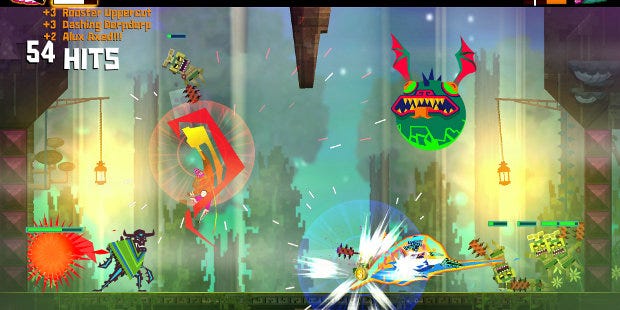 When punchy platformer Guacamelee! arrived on PC, it came as a shiny Gold Edition packing DLC from the original console release. But then developers DrinkBox fancied it up again with fancy new things for those fancier new consoles as the Super Turbo Championship Edition, meaning we were stuck with just a plain old really fun game. Ugh! Who wants that! But good news, parity-seekers. This Thursday, the Super and Turboness are coming to PC via Steam. It'll be a standalone release rather than an upgrade, though DrinkBox will cut $10 off for folks who own the Gold Edition.
The Super Turbo Championship Edition brings new areas, new abilities, new enemies, and a new boss battle against a three-headed skeleton named The Trio of Death. Super duper. DrinkBox also plan a string of updates adding mysterious new things.
Guacamelee! Super Turbo Championship Edition will cost $14.99, or $4.99 for folks who already own the Gold Edition on Steam. Oh sure, it'd be lovely if DrinkBox kept working on it for ever and ever for free, perhaps powered by pixie dust and cursed gold doubloons, but this seems fair enough. People paid exactly what they wanted for Guacamelee!, whether new or in a Humble Bundle, and now a few pennies make it even fancier. Hoorays all round.