Gust's Atelier Sophie and Nights of Azure coming to PC
Another dev comes over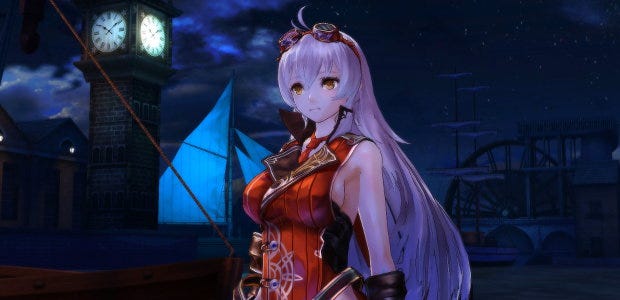 The JRPGs of venerable studio Gust will start coming to PC next year, parent company Koei Tecmo announced today. Gust join a long and pleasing lineup of Japanese developers who once focused on consoles but are now starting to give PC a crack, which is splendid news. But while some have been starting deep in their back catalogue, Gust's first PC ports will be recent ones: Nights of Azure [official site] and Atelier Sophie: The Alchemist of the Mysterious Book [official site]. Both of them will hit Steam on February 7th, 2017.
As I know nowt about all this, I'll turn you over to Gust's stepdad Koei Tecmo to explain a bit about Atelier Sophie:
"Set against a vibrant background reminiscent of a medieval European town the Atelier series' 17th instalment follows the exploits of a young novice Alchemist who discovers she is the owner of an enigmatic volume imbued with a soul. This Mysterious Book seems to hold all the secrets to Alchemy knowledge and it goes on to become Sophie's mentor. Sophie's improving alchemy skills start bringing back forgotten memories and uncover the strange tale of the book's origin."
Here's a peek at some combat from that:
As for Nights of Azure, Koei Tecmo say "Unlike previous GUST titles, however, the protagonist has a very active role in the game's real-time battle system." More blurb:
"Few leave their homes after nightfall in the kingdom of Ruswal, let alone have the strength and skill to take on the powerful azure-blooded demons that plague the uncharted island. One of the best among these brave few is Arnice, a beautiful knight of great skill and power sworn to protect humanity and defend the priestess Lilysse—her best friend. As she grows in power, Arnice can summon creatures known as Servan to assist her in battle as well as transform into a demon herself in order to carry out her mission."
And some moving pictures:
Ah yes, those are indeed video games.
These may be Gust's first PC releases but their stepdad, Koei Tecmo, does have more experience here. Though, er, Koei games are often a bit wonky on PC.