Has gaming ever offered a bright, happy future?
Electronic optimism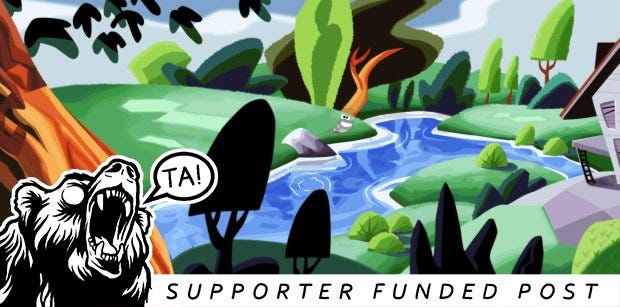 A few weeks back Warren "Deus Ex" Spector tweeted an interesting question.
Has anyone ever made a game about a bright, happy future? I need somewhere to escape to. Plus I'm just tired of dystopic power fantasies.

— Warren Spector (@Warren_Spector) February 12, 2017
And I've been struggling to think of a good answer.
My first thought was Kingdoms Of Amalur: Reckoning, its bright world packed with positive characters. But it doesn't hold up. It's, of course, a world on the brink of destruction, evil in the East spreading West, towns in despondence, hope being lost. I guess it comes to mind because it's a game where you apparently really do fix all that as you play, and make the world a better, happier place. But no, it's not a good enough answer.
So what is?
I think you can cheat the question. You can pick some daft cartoon platformer where the focus is on silly, but I'd argue this isn't specifically about a positive future. It's not about developing a coherent world where things are bright and happy. And heck, the vast majority of colourful platform games are about that bucolic world being infested with nasty evil. (Which I think disqualifies even the likes of Super Mario Galaxy.)
I think the trick has to be, finding a game that's about an optimistic outlook, rather than saying, "Slime Rancher is bright and fun." Sure it is, but it's got nothing to do with a bright, happy future.
So? Any ideas? And isn't it awful that it's so hard to think of one?