Festive Bird Fancying In Hatoful Boyfriend: Holiday Star
Festive follow-up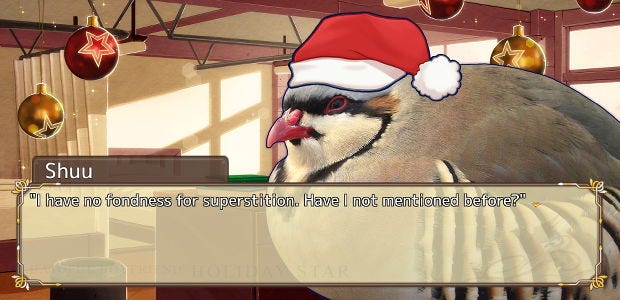 Did you kiss a bird last night? It's okay, you can tell me. I know that you twitchers (and Twitchers, probably) have been camped out in your hides with your binoculars, keenly awaiting the arrival of Hatoful Boyfriend: Holiday Star [official site]. You surely pounced on the bird dating sim as soon as it was released last night, so you don't need me to tell you it's out. But perhaps you're not yet committed to a lifestyle of macking on finches - what would your family say at Christmas dinner! - so hey, look, I'll just mention it's out so you can think about it.
This festive follow-up is a remastered version of the original Holiday Star, released in 2012 by creator Hato Moa. Mediatonic have again fancied it up, delivering it to Windows, Mac, and Linux. But what's going down in Holiday Star? The blurb sez:
"Hatoful Boyfriend: Holiday Star takes you back into the world of St. Pigeonations as the sole human girl at a school for gifted birds and every birdie from the first game returns with you! Whilst you get re-acquainted with familiar avian faces, the holidays bring with them a wide range of mysteries to unravel. The feathered figures at the heart of them will shock and surprise. Some will bring delight! Others something much more sinister..."
Ooh, sinister! The original Hatoful Boyfriend has remarkable heart for a game about a girl dating birds - see our Wot I Think - so it's good to see this getting a wider release too. It's surely the perfect Christmas gift to startle and amaze the bird fancier in your life. A whole new dimension to fancying birds awaits!