Have A Nice Death has left early access after a year of updates
Arise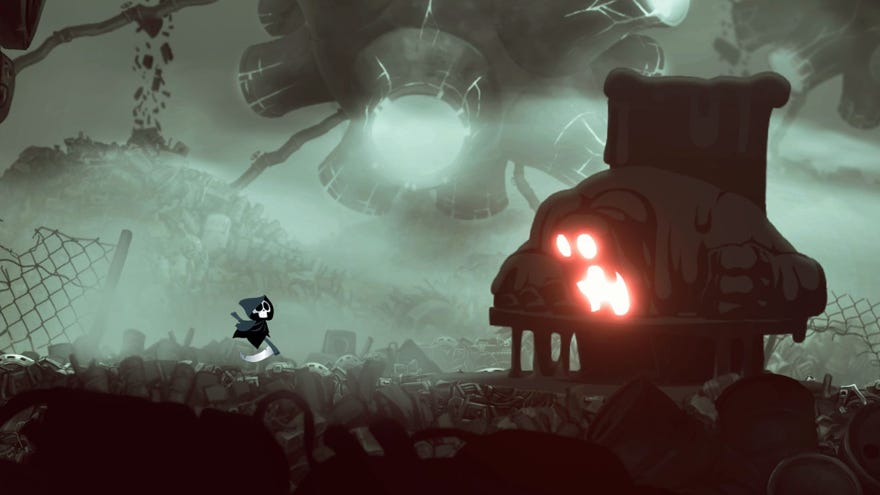 Have A Nice Death's dark art and quick-slashing combat bring Hollow Knight to mind, but it has more in common with Hades and Dead Cells. One of the things it has in common with those games is that it was released in early access. After a little more than a year, version 1.0 arrived this week, bringing a final area, a new boss, and the end of its storyline.
Here's the launch trailer:
Set within the cavernous, procedurally generated departments of Death Inc., Have A Nice Death casts you as an overworked Death whose holiday plans have been ruined thanks to your incompetent employees. You have to tidy up their mess, like when Katharine comes back from GDC and discovers Alice B has got into the Cadbury's fingers again.
If your "oh no another roguelike" alarm is flashing, keep in mind: Death can't die. Although you lose the powers you've accrued when you fail a run, some of your currency carries over and can be used to unlock weapons and food items for you to find on future attempts.
Ed played Have A Nice Death at the time of its initial release. He thought it had lovely bones, but that it needed more stuff to fight, upgrade, collect. It probably has more of those things after a year of updates. The 1.0 release alone adds five new enemies, a new boss, a new mini-boss, three new spells and cloaks, 30 new curses, as well as new pickups. I don't know what many of those things are.
Have A Nice Death is currently £19.79/$22.49 with its 10% launch discount from Steam.
Correction: An earlier version of this article incorrectly stated that "powers" carried over between runs. Only certain currency and weapon/food item unlocks carry over. Unlocked weapons and food items must be discovered during a run.