Have You Played… My Summer Car?
You'll never Finnish it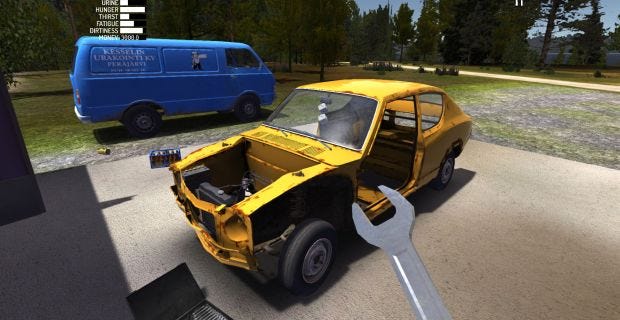 Have You Played? is an endless stream of game retrospectives. One a day, every day, perhaps for all time.
My Summer Car has excellent patch notes. Here are some examples:
Player can now drown when too drunk
Adjusted targeting of piss
Sleeping with cigarette can start a fire
You can now drink from jail cell WC bowl
Added moped (do not try to drive moped inside another vehicle, YOU WILL DIE)
Aside from being an odd game about getting drunk and sitting in a sauna, it's about building a car from scratch. You have to put together a vehicle while knowing nothing about the bolts and components that make it up. Unless you are a mechanic in reality, you will struggle.
But that's also the whole point. It's a game of ineptitude and confusion set in the Finnish countryside. Where Jalopy takes the idea of a comically rubbish car and sends you on a funny journey, My Summer Car doesn't even get a mile down the road, it is that absurd. You can travel around in an old van and other vehicles, sure. But you'll never leave this rural land behind. But when Finland is this farcical, why would you leave?