Have You Played... State Of Decay?
On the verge of a breakdown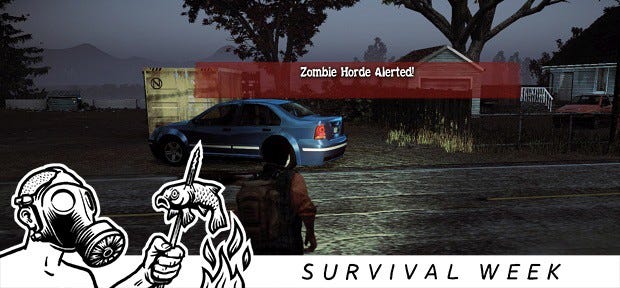 Have You Played? is an endless stream of game recommendations. One a day, every day of the year, perhaps for all time.
State of Decay didn't impress me when I played it last September. Originally released on the 360, Undead Labs' debut is an open world survival game with a structure remarkably close to my ideal zombie game. It's about scavenging, gathering survivors, barricading, running out of supplies, collecting vehicles and avoiding enormous hordes of the living dead. Great ingredients that didn't quite make for a fine banquet, but it's a much better game now than it was a year ago.
A janky engine and obtrusive story missions were the main sources of disappointment for me, and the Breakdown DLC fixes the latter issue in fine style. Stripping out the story, it converts the game into a sandbox sim, dumping the player character in town and providing two simple objectives. The first? Survive. The second? Organise a means of escape.
Everything that happens is driven by the need of the player and other survivors, and the movement of zombies around the map. There are memorable moments in every hour of play and they feel as if they're your moments.
A disastrous trip to gather food from a supermarket far from the group's secure base can turn into a massacre, the remnants of the hunting party leaving their fallen friends behind as they scramble to the relative safety of an abandoned car. Surveying the town from on high and seeing an enormous horde heading straight for your friends, who have been sent to gather supplies and are now cut off from home.
The engine still feels unsuited to the task at times and it's a disappointment to find the same map - with increasing difficulty - recycled over and over again. Escape and you end up back in the same town, with more zombies, less supplies and certain features randomly scattered.
Returning to State of Decay with expectations adjusted and the Breakdown DLC in place, I've been sucked in by its rough and rugged charms.
You can read more Survival Week articles over here.