Have You Played... The Lost Vikings?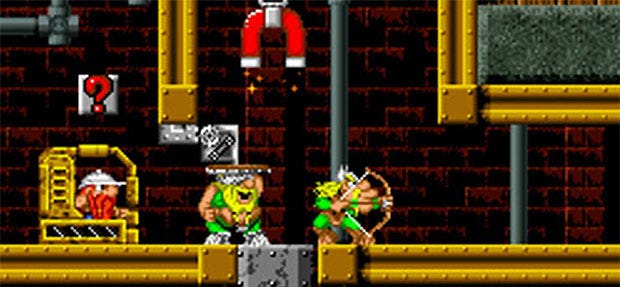 Have You Played? is an endless stream of game recommendations. One a day, every day of the year, perhaps for all time.
Aka 'what one half of Blizzard made before Warcraft.' When I was a clueless British schoolboy, The Lost Vikings seemed to be a much bigger deal on this side of the pond than Warcraft, but I'm probably just saying that as someone who happened to play the demo when he was just that little bit more impressionable than he was two years later. When I played that demo, I had to have the full thing immediately.

The three characters seemed so likeable, so big on personality in a way that the mostly dry PC fare of the time was not - it was as close as I'd yet gotten to the console games I'd never had my own access to. This was an early version of the Blizzard slickness we see today, of course, that chumminess and cleanness and approachability, almost to the point of superficiality or obviousness. It gets people onboard, and in The Lost Viking's triptych of foolhardy but stoic marauders who found themselves unexpectedly trapped on board an alien spaceship, I was as caught in the spell as a boy can be.
How does it hold up today? I'm not entirely sure I want to find out. At the time, I was so relieved to find a game that looked like a platformer but played out more slowly and thoughtfully, requiring puzzle-solving nous rather than the manic reflexiveness of Mario or Sonic. I want to keep the dream that it was a clever game full of great sight gags alive, and playing it would be the fastest way to kill it off. However, it is available for free and modern PC-friendly (thanks to built-in DOSbox) from Blizzard now, so if you want to go and shatter a few childhood illusions, be my guest.