Hearthstone enters The Witchwood next week
OooOooooOo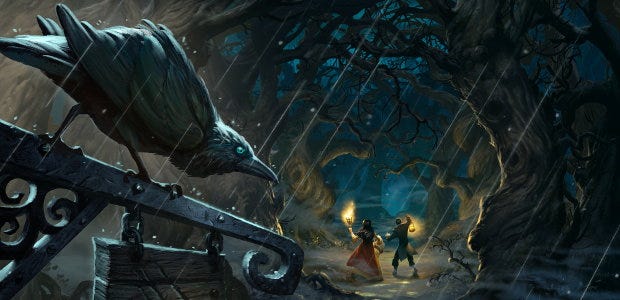 If you go down to the woods today, you're sure of a big surprise: daffodils should still be flowering. Highly recommended. But if you want to go down to The Witchwood, you'll need to wait until Thursday, because Blizzard have announced that's when they'll launch that new Hearthstone expansion. Venturing into the spooky ooky forest outside the Worgen city of Gilneas, The Witchwood will add 135 new cards. Expect witches, wolfmen, wisps, and other weird and alliterative woodlife.
The Witchwood brings a new card ability to Hearthstone, named Echo, which lets players cast a card multiple times if they can afford it. That's found on some minions as well as spells. And is slightly confusing because both Magic: The Gathering and Eternal use 'Echo' to mean different things.
Also new is Rush, which is a bit like Charge but in that it lets minions attack other minions on the turn they're summoned - but, unlike Charge, doesn't let them attack the enemy hero.
The expansion also has a theme of cards which give boosts if all cards in your deck cards have only odd or only even casting costs, with new neutral Legendary creatures for each type.
You can see the cards revealed so far over here. Blizzard will finish the slow reveal in a Twitch livestream on Monday the 9th at 11am PDT (that's 7pm UK time).
Hearthstone: The Witchwood will launch on April 12th. As ever, Witchwood card packs will be winnable as well as sold for the in-game currency or real money.