Hex-A-Decimate: Drums Of War Beta
Drums in the deep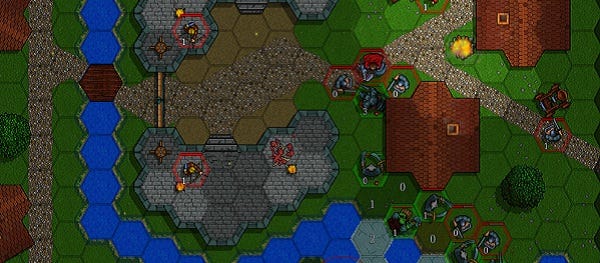 Beta signups are now open for Drums of War, a turn-based tactical combat game set in a world of "magic and mythical creatures". They mean fireballs and orcs. Looking through the screenshots, I was convinced I'd seen the game before but a quick trip to the RPS archives left me covered in dust and regret, but I found no evidence of these particular drums. I suppose one hex-based fantasy game can look a lot like another, but the emphasis on environmental reaction was sending my belfry into a cacophony. Then it hit me - I'd failed to find a previous reference to the game because it had a naff word crammed in front of its now-absent colon. The game was once Crasleen: Drums of War and I rather enjoyed the demo.
Let's take a look at what the Adam of Winter Past made of it all:
That view does provide a sensible view of the battlefield and even though the graphics won't convince your console-kissing friends that your PC actually is the most powerful gaming machine on the planet, they are clear and uncluttered for the most part. Along with the artifacts and potions that can be equipped between battle, units have their own special abilities, which occasionally combine with elements of the battlefield. A knight can charge, pushing units back into fire or water, necromancers can create alternate routes by freezing rivers (the ice eventually breaking) and siege machinery can be claimed and turned against the enemy.

If you're willing to put up with the gently fumbled translation and don't mind hanging out with a gaggle of greenskins for the umpteenth time, Crasleen's demo is certainly worth the small download and quick playtime...
Well said, that man. It looks like you can still download the demo here but if you want to sign up for the beta, you'll need to register at Slitherine's site.
Here are the Drums of Death, one of the four other main Drum types.