Circle Of Protection: Hex And Magic Settle Lawsuit
Mysterious settlement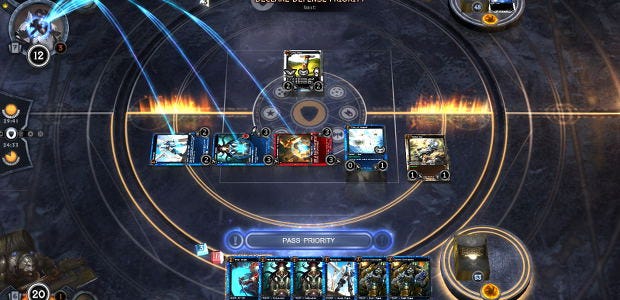 Magic: The Gathering has been such a popular collectible card game that it's no surprise to see traces of it in many modern CCGs, but Hex: Shards of Fate [official site] looked more like Magic than any digital CCG I've seen. Magic makers Wizards of the Coast noticed the similarities too, and in 2014 sued the Kickstarted CCG's makers for allegedly infringing their intellectual property rights. Well, that's now settled, and Hex will continue on its merry deckbuilding way.
Wizards and the Hex folks Cryptozoic Entertainment and Hex Entertainment jointly announced recently that the suit is settled. They don't disclose what either company gets out of it, but do say a license of some kind is involved. Presumably that means the Hex lot have paid (or will pay) Wizards... something.
Chief Wizard Greg Leeds said the following whilst wearing a skull atop his head and clutching a massive wand:
"Wizards of the Coast has always welcomed new games to the trading card game genre, and we encourage TCG fans to not only play Magic, but to try many different games. However, we will not hesitate to take action to protect our intellectual property and the amazing work of hundreds of dedicated Magic team members around the world. That is why we brought this lawsuit and why we are happy to announce its resolution through a settlement and license that both protects the valuable intellectual property of Magic: The Gathering and allows Cryptozoic and Hex to move forward with Hex: Shards of Fate."
Yet I do wonder what would have happened had this gone to trial. Yes, a lot of Hex seems straight out of Magic, but copying, borrowing, and cloning are hardly rare in video games. Going all the way to court could have been costly for the Hex folks whether they won or lost, though. For now, keep on hexing.