Hidden Folks Looks Like Where's Wally? With Fiddling
Lovely fiddling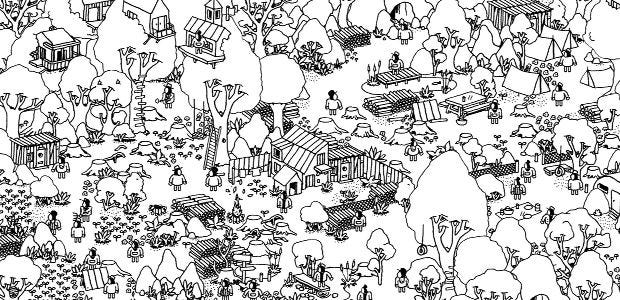 The imaginary worlds I grew up with were Where's Wally? books (or, for our international readers, Where's Waldo, Willie, Villi, Valli, Wali, Jura, Charlie, Ubaldo...), beautiful bustling places filled with people going about their days. Stuff finding that striped fool, I wanted to gaze at everything going on! Wait, is that why I like Bernband so much? Anyway, similar pleasures are coming our way with Hidden Folks [official site]. Announced today, Hidden Folks has manhunting in interactive scenes, where we'll get to fiddle around and poke at things in our search. It looks delightful!
Watch the video in the background of the Hidden Folks site (or download that directly here) and you'll see the player pulling levers to move cranes, yanking up garage doors, and moving vehicles around. That's only 21 seconds in one of its many environments, mind. I am awfully keen to see what I can do in the forest.
I'm reminded of Vectorpark's games like Windosill and Metamorphabet, where fiddling with something and seeing what it'll do is as fun as 'solving' anything. Hidden Folks isn't all manhunting, mind, with things like word puzzles embedded in places too.
I have high hopes for that forest.
Developers Adriaan de Jongh and Sylvain Tegroeg say they plan to release Hidden Folks on Windows and Mac "soon". Soon isn't soon enough.