The Top Best Bestest Games Of 2017 So Far
43 absolute gems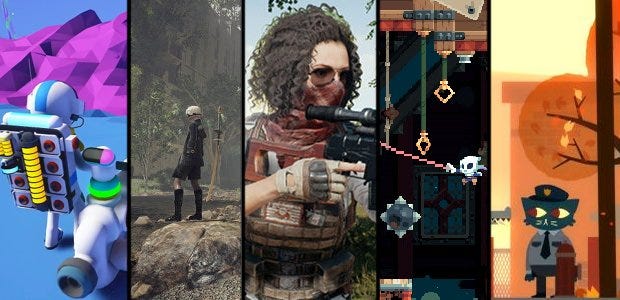 Update: The year is finished, which means you can now read the final list of our favourite games of 2017.
2017 has already been an extraordinary year for PC games, from both big-name AAA successes to no-name surprise indie smashes. Keeping up with so much that's worth playing is a tough job, but we've got your back. Here is a collection of the games that have rocked the RPS Treehouse so far this year.
We've all picked our favourites, and present them here in alphabetical order so as not to start any fights. You're bound to have a game you'd have wanted to see on the list, so please do add it to the comments below.
Click the teeny red arrow to begin or use your keyboard's left and right arrow keys to move back and forth.
Pip: I go back and forth on exactly how much I enjoy A House Of Many Doors. It has the unenviable task of trying to attract your attention while existing almost entirely in the shadow of Failbetter's own Sunless Sea and there are slightly too many mechanical irritants for play to be this uninterrupted story exploration BUT oh my gosh! The writing is a ridiculously ambitious undertaking and delivered so many pleasing or memorable moments. There are also these stunning art cards which offer you a glimpse of whatever locations you've just arrived in. Oh, AND the game uses an FTL-ish approach to combat which I found far more interesting than Sunless Sea's meandering cannon-or-run-away exercises. For all the little niggles, when it gets things right they're utterly wonderful.
Further reading:
John: Lost phone games are a genre I am fully behind, but perhaps make less sense on a PC. However, A Normal Lost Phone's cartoony presentation perhaps lets it work on a bigger screen, not trying to directly simulate your own telephone's screen.
The result of just poking through a stranger's phone becomes a deep and emotional tale of a person's disrupted life, part voyeuristic, part investigative. It's a very smart thing.
Further reading:
John: An absolutely brilliant harking back to Amiga platform games, but with the good sense to incorporate the last thirty years of improvements. It's in many ways a fairly traditional side-scrolling Metroidvania, with a very traditional tale - a land that was once burgeoning but now is dying, and you a girl from another world here to try to save it.
But it's the application of some original abilities and thus novel puzzles to the foundations that make for the best platformers, that makes this game shine. It's a splendid example of the form, while being just original enough to feel specific and special.
Further reading:
Pip: Astroneer is a game still in very early access but one which has already given me so many hours of enjoyment. I potter around on bright, strange planets making myself at home, then blast off to see what else the solar system has to offer. I'm approaching it the same way that I approached Subnautica so that initial burst of activity was wonderful but now I'm shelving the game for a while. I'll either boot it back up at full release or when the updates have made for a significant change in the experience. At the moment it's this soothing sandbox. I look forward to what it might grow into.
Graham: This was released in December 16th of 2016, but that made it far too late for inclusion in last year's roundups and it definitely deserves some attention. As Pip says, it's still in very early access, but there's been so much thought put into making the standard verbs of crafting-survival games slick and fun. You mine the world of its minerals not by slowly punching things, but with a big terrain-gobbling vacuum cleaner; your inventory isn't hidden away in a menu, but visible on your back at all times; and research and building placement are always done via interactions with chunky, physical objects in the game's colourful world. Also like Pip, I'm waiting for future updates to come along and add something substantially new before I return, but I've spent dozens of hours with it already and had a great time.
Further reading:
- Our review
- Games are best when they ignore you
- How Astroneer makes crafting fun
- Welcome to Pip's Astroneer base!
- Astroneer is survival and crafting without the cruft
Alice: Superb violence delivered with great style and vigour.
Graham: Bayonetta has an excellent combat system and it's absolutely worth learning, but if you can't or don't want to, the game will help you out. In easy and very easy mode, aside from making all enemies weaker, you'll be given a 'relic' to wear that causes mashing buttons on your controller to perform a random selection of moves without the need to learn their button combinations. This cuts out some of the pleasure of playing the game, but even setting combat aside, it's absolutely worth playing Bayonetta for its world, characters and over-the-top setpieces and cutscenes. Do it however you can and you'll have fun.
Adam: Wot Graham said, essentially. I'd add that I wasn't convinced I'd still love Bayonetta quite as much after all these years, but it felt as fresh as ever. Nobody does it better.
Further reading:
Graham: You're a small ship, thrusting around small levels, shooting enemies and trying to avoid touching the sides. Your bullets are infinite but your fuel isn't, and so you need to be economic in controlling your slidey momentum to reach the exit of each level. So far, so samey, but Brute is elevated by the feel of its physics and the sound of your ship as it accelerates, collects powerups and destroys enemies. It's N++ with a spaceship instead of a ninja, and it's one of the most satisfying games I've played this year.
Further reading:
Pip: I'm not one for digital card games as a rule. I get sucked in for a little while but never long enough for them to make a real dent in my leisure time. Card Quest was different because instead of the CCG genre, this was a card-based dungeon crawler. It combined a simple but fun narrative with a simple-to-grasp card game of attack and defence. You pick a class and battle your way through dungeons, chaining up attacks, taking out enemies and earning new items. It's still in Early Access so all the usual caveats, but what's in the game at the moment has been a lot of fun for me so far, even when bashing my head against the first boss.
Further reading:
Adam: Dead Cells is a great roguelike platformer but Caveblazers is my favourite entry in the genre for years. Since Spelunky, in fact. It's not as skill-based as Dead Cells, which does wonders with the timing of blocks and rolls, but it's incredibly silly and packed with daft physics effects. I still haven't reached the final boss and I don't think I'll be able to stop playing until I do. I'm playing it right now.
Further reading:
Pip: Cosmic Express is an adorable space-based train puzzler. You lay a railway across a grid so that it picks up and drops off all the passengers. It sounds so simple, and yet… AND YET. The cute art style and lovely animations conceal a rock-solid set of challenges which sprawl across galaxies. ARGH! But also OOOOH!
Further reading:
- Accessing frustration in Cosmic Express playtests
- Charting the puzzle depths of Cosmic Express
Pip: Matthew Brown returns with another exercise in trademark minimalist cell-based logic. This outing involves more arithmetic than his other 'Cells games (although only in the sense that you need to do some basic addition and multiplication – think Killer Sudoku if you want a reference point for the blend of logic and maths) so its position in your personal rankings may vary. I love that stuff!
John: In a fair and decent world, Matthew Brown would be developing the reputation of Japanese puzzle creator Nikoli. The games press's continued failure to review his exceptional 'Cells series is, frankly, atrocious and embarrassing. Fortunately, readers of RPS at least know his games are amongst the finest puzzles ever created.
CrossCells might not be my favourite - that would be HexCells Infinite - but it is a magnificent collection of mind-stretching challenges, presented with Brown's signature aesthetic of aural calm. A proper treat for people who really care about puzzles.
Further reading:
Adam: The other great roguelike platformer of 2017 (so far). It's still in Early Access so I can't judge it as a complete thing, but even now it's a real pleasure. You play as a cluster of cells and each time you play, a short cutscene has you possessing a corpse, and then you take that corpse through as many levels of dungeons and ramparts and sewers as you can, dodging, blocking, stabbing and rolling as you go. Is it really boring to say "it's like 2D Dark Souls done right?" Even if it is boring, it's true.
Graham: Is it even more boring to say that Dead Cells is a stabby Spelunky? Stabunky, I call it. Where Spelunky runs can be re-shaped by the jetpack or sticky shoes or climbing gloves you can find early in the game, a life in Dead Cells can be similarly defined by the blood sword, horizontal turret, or invisibility amulet you find. One life might be about exhilarating close quarters combat, all leaps and rolls, while the next might be about ranged attacks and shields, and the next about throwing traps and staying away entirely, and the next about finding some new amulet you've never encountered before and doing everything you can just to afford it. Dead Cells keeps me coming back again and again because no matter how quickly I fall, I'm excited to find out what the next life brings.
Brendan: There's one thing I never get tired of doing in this. Smashing doors and blinding the enemies behind them with shards of twisted metal and wooden splinters. It's so vicious, like being a really nasty, violent Kool Aid man. I haven't enjoyed a roguelite of this ilk so thoroughly since Risk of Rain. It has the same sense of panic and flow, and it can be just as rock hard. I still can't beat the second boss, and yet, I don't care too much about that. Death here is common but it doesn't frustrate. I'm always happy to start fresh and get busting down those doors all over again.
Further reading:
Pip: Cars that control like recalcitrant shopping trolleys, crashes, bugs, excessive QTEs and an early struggle to find its own identity. It's a testament to how bloody brilliant Deadly Premonition is that absolutely none of that impacts my opinion of this as one of the best games of all time and thus also one of the best games of early 2017.
Alice: As wonderful and as awful in early 2017, in exactly the same ways, as it ever was. I believe the term for that is "timeless classic".
Further reading:
- The game worth saving from 2013
Adam: This one took me by surprise. Essentially it's a point and click adventure, but there are some light stealth and survival horror aspects. Trapped in a school at night, the player characters find themselves pursued by horrors drawn from their personal history and the political history of Taiwain's White Terror. It's a period piece, an insight into a history I knew very little about, and a riff on Silent Hill's style that doesn't feel like a copycat. Detention is a great example of why I love the horror genre so much; like the film Under the Shadow, set in 1980s Iran, it's about a specific time and a place, and the hauntings that took place there.
Further reading:
Adam: I knew it would almost certainly be good, given Amplitude's past work, but I'm still not quite sure how good it is. It's early days for me, having ignored most of the Early Access period, and I'm flitting between factions trying to find one that suits a first campaign. It's probably going to be something simple, which seems wise, but the Ark-dwelling vampiric Vodyani are so tempting. The hours I've put in have already been a delight. I love the layered interface, I love the music, and I love how the apparent simplicity keeps peeling back.
Further reading:
Graham: Every time I thought I had explored the limits of Everything, I discovered more beyond them. More creatures and objects to control, more locations to roll around, more abilities to unlock. I shouldn't have been surprised that a game called "Everything" contained so much, but I was. And this is a game entirely about that act of exploration and the novelty of finding something new as you shift up and down from cellular to universal scale and possess and make move, sing and dance anything you see. Can I control those biplanes? Sure. Can I control and move that island? Yes. Can I spawn an island-sized biplane? Uh huh. Can I make it sing and dance? You bet.
Pip: I booted this up the other day and every planet I visited seemed to present me with a rather suggestive lifeform. It was like playing a constant innuendo that wanted to form herds and do dances. I am very much on board with this.
Adam: It's my favourite screensaver of the year. I'm not kidding and I mean that to be a significant compliment. I've unlocked just about Everything in everything and there's a documentary mode where it plays itself, with adjustable parameters, and it's just the loveliest thing to have on the TV in the background while I'm reading a book.
Further reading:
Adam: Flinthook has an awkward control scheme and when I first played it I thought it was far too colourful and visually noisy for its own good. But the more I played, the more it revealed a structure that puts just about any other legacy/generational roguelite I can think of to shame. I always feel like I'm making progress and always feel like my next attempt is going to be the best one yet. I'm wrong more than half the time, but that doesn't matter. I keep going back for more.
Further reading:
Brendan: Ubisoft's triumvirate of warfolk was a great (if often frustrating) competitive game. You pick your deadliest warrior and get wrecking. There are huge Viking raiders, poison-bearing Samurai assassins, and boring, despicable Papists. The combat is fierce, skill-based and demands quick reflexes and smart thinking. Or you could just grab your opponent and toss them off a ledge. I was especially happy playing a Berserker who placed down bear traps in critical and dangerous areas, before flinging my stunned enemies down a nearby skyhole.
But the weirdest thing about this ahistorical fighting pit wasn't seeing Japanese and Nordic militiamen stabbing each other over a stretch of dirt. It was seeing other human players coming up with their own codes of honour - no environmental kills, no ganging up on a single person, no revenge power activation, no using ranged skills to get a quick kill. Whole rules were made to constitute an entirely optional "honour code" enforced not by the game but by the game's Valhalla-esque society. It was wonderful to see players sticking to these rules during brawls or 4v4 skirmishes, just as it was wonderful to knowingly break the rules at short notice, booting your opponent into a pit of spikes just as he came to trust you as a chivalrous combatant. The boos and hisses are music to a Berserker's ears.
Unfortunately, while the game itself is a great blood-soaked moat of multiplayer mayhem, Ubisoft's terrible UI and their decision to use peer-to-peer networking mean that connection problems and actually getting into a match is like trying to fight through a plague of rats. You are just as likely to get kicked out of a battle and back to the main screen as you are to get kicked off a rampart. And that is more dishonourable than any throwing axe to the forehead.
Further reading:
- For Honor's rough edges hide a diamond worth polishing
- A collection of dishonourable acts in For Honor
- Everything wrong with For Honor
Pip: If you enjoy the type of playing which is about pressing buttons and seeing what happens I think you'll love Future Unfolding. It manages to make the parts of the game where you're getting to grips with the world and its mechanics absolutely delightful. Interactions produce sounds and movements and appearances and… this is so vague but the delight is so tied to the surprise of interacting and getting a result that I don't want to spoil a single thing!
Further reading:
John: The principles of Where's Wally/Waldo, applied to vast, animated monochrome scenes, packed with hidden people, animals and objects to uncover by exploring with your mouse cursor.
It's just simply fun. Poring over these intricately detailed drawings, as monkeys dance, trees wobble, snakes slither and fires puff out, feels something close to magical. It's good humoured, pleasingly challenging, and often very silly. And the good news is more levels are being designed, hopefully appearing soon.
Further reading:
- The calming influence of Hidden Folks
Adam: Little Nightmares doesn't start well. The opening area is a little bland, all creaking pipes and leaky faucets, and it's only when the first of the actual nightmares appear that everything starts to come together. It'd be reductive to call the game this year's Inside but it's worth keeping that macabre treat in the back of your mind. Little Nightmares has its own tricks though. Little Big Panic.
Further reading:
- How Little Nightmares' horrible characters were animated
Alec: A lovely thing - a hugely characterful roguelike/deckbuilder hybrid with a healthy dose of Spelunkyism running through its wry veins. Awash with both offbeat humour and smart mechanics, and the rare game that I didn't mute after I'd heard most of its dialogue and music several times over. Admittedly, I don't feel that Loot Rascals a game I'm going to return to regularly - which is, I think, what it's designed to be, with its leaderboards and daily challenges - but that might be because it's a casualty of the reviewer's binge-play curse. DON'T BE LIKE ME, KIDS.
Further reading:
Pip: This is a digital version of the excellent boardgame of the same name, in which you're either a psychic trying to find a murder's culprit, location and weapon or a ghost distributing clues. The translation to digital actually works really well here because the game revolves around limited communication and interpretation of illustrated card by the ghost player and the mediums. There were a few minor irritants with regard to actually setting up games with friends if I didn't fancy playing with strangers but with those successfully navigated this was a lovely way to play a beloved boardgame with my far-away friends.
Further reading:
Adam: This might be fun, I thought, with the shooting and the stabbing and the boar-riding, but I'm probably going to get sick of the daft, mopey anime-trope-ridden story very quickly. And then I gasped and I had a bit of a sniffle, and the whole thing was just bloody brilliant.
Alice: Stabbing those robots certainly is great. Combat in open-world RPGs quickly becomes a chore but even near the end of my fifty-odd hours in Automata I was still enjoying dancing around robots cutting (and punching) them to pieces.
It was still surprising even at the end too. Plot twists! Systemic twists! And such sights!
And those warteens, oh my. Automata has so much heart. It warms, it gives hope, it picks, and it hurts and hurts and hurts.
Further reading:
John: I love how Night In The Woods challenges so many preconceptions about games. How it delivers its narrative in the order it wishes, saying what it wants to say, but still gives such a depth of illusion of control. How the conversation choices, while not steering the plot in new directions, make a powerful difference to how you feel about the story you're hearing. And how its gorgeous cartoon world belies a multitude of tales of sadness, hope, poverty and escape.
Its ending is a real disappointment, but it's testament to the richness of the rest of it that this barely tarnishes the experience overall. A wonderful piece of storytelling, about a disaffected youth I never experienced for myself.
Alice: Just the sense of frustration, tiredness, faltering hope, trust, and curiosity I was looking for. Thanks, video games!
Also, bouncing on phone lines is great.
Further reading:
Brendan: I have to dig through lots of games for our weekly early access column, and even good ones become quick victims of the uninstall button. But Northgard, along with Streets of Rogue and Dead Cells (also mentioned in this list), has the distinction of cheating that fate. It is a well-greased machine of an RTS, every cog and component working in tandem with the next. You are a Viking clan, seeking to win a match by conquest, economic, military or by the sheer force of your own legend. There is always another special win condition - defeat a wyvern, for example, or take control of the World Tree - but I soon found that even when I or one of my opponents approached the end goal, I would stay on the map, more than happy to click "keep playing". For a time it became my go-to game to play while listening to a podcast. It is an almost obscenely functional strategy game.
In terms of its ideas, there's not much that makes it distinguishable. You still plop down buildings and assign your populace to whatever role seems efficient at the time - a warrior here, a scout there, a woodsman here, a herbalist there. But the manner in which it has been put together shows real craftsmanship and knowledge of the genre. The map is split into conquerable tiles, each only able to house a limited number of buildings. You can't grab distant quadrants without first owning the plot next to it. Winter comes once a year, along with natural disasters like earthquakes or hordes of grain-eating rats. But it always tells you this ahead of time, meaning you have to factor both the seasonal change and any impending catastrophe into your expansionist plans. A match often becomes about holding back, not reaching too far from your home tiles in search of wealth (your villagers will only spawn at your town hall, and if some of your folk die far from home, it can take a long time to get replacements out there). At the same time, you always have to be thinking about the future, and planning your next hunting lodge, your next tavern, and - oh no, there's a blizzard coming.
Pip: Orblands mixes gorgeous walking-sim-type landscapes with a little FPS gaming to entice you across its sci-fi paperback worlds. The basic quest is to use limited ammo to shoot rainbow balls which zip around the environments. That then forces you to wander around and see more, regardless of whether you would have done so anyway. I don't really need a reason to plod about in generated worlds but the shootery bits felt dreamy enough that they didn't disrupt and I enjoyed the combination of walking sim with having an arcade-y simplistic goal.
Further reading:
John: Picross is tricky to get right. Enough poor attempts to provide the puzzle on both telephone and PC have proven that. But Pictopix gets it absolutely spot on. A really smartly designed collection of 50 puzzles will keep you busy for many hours. And it's not until you play the hundreds and hundreds of user-created puzzles that are now part of it, lacking the same finesse that you truly appreciate just how carefully created are the original 150.
Graham: I played all the Picross games available for the 3DS sprawled out on my couch during long, lazy weekends. They were great, I had a great time with them, but I wasn't hungrily seeking out more because to play Picross is to be pickpocketed of your free time. I guess I'd forgotten this when I started in on Pictopix on John's recommendation and it immediately robbed me of three whole evenings. That's to the game's credit - despite being an established puzzle type, it's not easy to create that time-shrinking flow state - but it also makes it the only great, unfinished game currently installed on my PC that I'm actively trying to avoid.
Further reading:
- I haven't stopped playing Pictopix for three months
Alec: I'm increasingly reluctant to go back to games I treasured when I was what I now realise was a mere child, as fond memories and ice-cold reality can be an explosive mixture. The release of the Enhanced Edition of PST necessitated confronting my nostalgia head-on, however, but I'm relieved to say that The Nameless One and his amazing friends remain fine company even in the harsh light of 2017. One of the very best computer roleplaying games ever made, and though most of what this new Enhanced Edition does has been available via modding for some time, you really can't argue with the ease and compatibility of it. The game doesn't feel fusty or inaccessible - now is very much the time if you missed it first time around.
Further reading:
Alice: Plunkbat is the multiplayer game I am most excited to be learning.
It's an FPS which sprawls across 64 square kilometres yet where one single square metre can be fiercely contested, where every encounter is tense, where patience and nerve are often more important than aim, and the mere sight of an open door is cause for concern.
I've not yet won but I have hit the top ten in rounds where I airdropped into firefights and fought my way out, rounds where I parked with a rifle popping heads across the landscape, one where I fought over a meadow inch-by-inch, where every window in a city seemed to contain a gunman, and one round where I didn't fire a single shot but sat happily beneath a tree watching corn ripple in the wind as everyone else whittled each other down.
Playing alone, it's a time of quiet concentration. With chums, it's a 25-minute adventure with japes aplenty and always a dramatic climax - especially when you pull foolish schemes.
It runs like a dog, mind.
Further reading:
- The tension & elation of PlayerUnknown's Battlegrounds
John: It's quite extraordinary to discover that a game which promoted itself so strongly with the wonderfully silly ability to turn into a mug, turns out to be possible to play without even considering the idea. That's testament to the exquisite freedom on offer in Prey, in a way we haven't seen so smartly realised since the original Deus Ex. Each situation, each fight, each passageway and room, can be approached in a way unique to you, from the more normal options of stealth or battle, down to whether you even opt to use alien-like powers at all. I loved that as others in the Treehouse played the game, we were all realising we approached it entirely differently.
Adam: I'm nowhere near finishing it and I'll quite happily savour it for a while longer because where Dishonored and itse sequel felt like one possible path for the immersive sim, this feels like another broader route. It's expansive in a way that few games are, really making me feel like I can do what I want within the limitations of its credible space station. The best moment was an hour or two in when I realised I was waiting for someone to tell me where to go and how to get there, and no answer came.
Alec: My game of the year so far, easily. I managed to lose myself in exploring every nook and cranny of its deco space station for over 30 hours - it's not necessarily that long a game, but so happy was I crafting my own path through its interconnected science-fictional mazes that I simply didn't want to leave. I couldn't give a rat's bum about its plot - though I found it unobjectionable - it's simply that space was the place for me.
Further reading:
- The game that makes locked doors cool again
- Prey's opening hours show the setting is the star
Brendan: I hate and love this slugcat. In videos and GIFs, Rain World looks like the cute and touching puzzle platformer that is constantly being reinvented every year. Look, it's a little furry creature and he has been separated from his family! We must help him.
You fool. Rain World isn't an adorable puzzle-hopper. It's a means of exploring what it feels like to be eaten by every nightmarish animal imaginable - octopi, lizards, vultures, leeches - only more terrifying than that. These aren't just lizards, they are "disco lizards" or they are camouflaged lizards with sticky tongues. They aren't normal vultures, they are mask-wearing bastard vultures. Even the seaweed in this place is carnivorous. It looks like a nice platformer, yes, but it's as tough as a jerky made out of toffee and hair. And not always in a good way. Death is punitive and the checkpointing is frustratingly sparse. And because the beasts of the world don't adhere to scripting or any consistent placement, you will meet your demise thanks to simple bad luck time and time again, as you pop out a tunnel and straight into the jaws of a waiting predator.
I had to give up on it. The over-punishing nature of this world was just too much (not to mention all the small problems that got in the way, like sticky controls, map problems, getting stuck in pipes that led nowhere). But it has been patched to remove some of the more annoying issues. And even if it hadn't been, I would still praise this wet hellhole for its imagination and mystery. You have to discover so much for yourself. What do those insects eat? How do I make friends with these tribal dudes? WHAT THE HELL IS THAT AND WHY WOULD I GO SWIMMING WITH IT? It doesn't so much "refuse to hold your hand" as "cuts off your hand and throws it down a well". That sometimes makes the game more difficult, but it just as often makes the game's world more magnificent.
Further reading:
- The deadly creatures of Rain World
John: Games this beautiful come along very rarely. From Laura Shigihara, the singing voice behind Plants Vs Zombies and To The Moon, she demonstrates powerful game design chops with her first project - a deeply emotional story of a young boy stuck long-term in hospital, escaping to a fantastical world via a magic book.
What makes it stand out from that fairly standard fantasy notion is the overlapping nature of the two worlds, the intertwining fairytale and real-world stories, and most of all, that it's a game you play while accompanied by your mum.
The result is a real tear-jerker, both happy and sad, as you discover the complexities of the lives of the others staying on your hospital floor, through both literal and allegorical presentation. There's a lot going on, and it all holds together splendidly, making for a story that sticks with you long, long after you're finished playing.
Further reading:
- Official site
Alec: My vote is for the first two-thirds of Resi 7 only. The last stretch saw the dying of the gloriously wicked ambition that made the Baker house such a menacing and confounding place to survivo-horror my way through. What a comeback nevertheless: a deft blending of Resi's core with modern sensibilities and incredible presentation.
Adam: I'm with Alec as far as the game fading in its final third goes, but I'll admit there was a part of me that felt quite cosy once the monster-shooting took over. It's that house and that family that'll stick with me though. I haven't enjoyed a Resi game since 4 and that always felt like a sidestep from the survival horror that had drawn me to the series in the first place. This is a return to form and to function.
Further reading:
- Resident Evil 7's DLC returns to the best of Resi 7
- The gruesome glories and nonsensical excesses of Resident Evil 7
- Resident Evil 7 has a door problem
Pip: She Remembered Caterpillars is a colour-based logic puzzler. You spend each level figuring out how to traverse the pathways, bridges and gates in order to land coloured sprites on pads. The game is clever about how those gates and bridges work and how they forbid or permit colour combinations and the levels themselves are beautifully illustrated.
Further reading:
Pip: Sky is one of the small games which has stood out to me this year. It's a whooshy constellation explorer where you swoop through space activating the paths between stars and collecting little space sprites which follow you round as a rainbow of trails in the sky. It's so pretty and relaxing!
Further reading:
Graham: If I call this 'a 3D platformer starring a snake', you might picture an anthropomorphised radical snake dude, as per many animals in '90s platformers. But no: this stars a snake, who has the powers of… a snake. You move forward by waggling the analogue stick side to side to mimic slithering, you hold a button to lift your head, and you climb by wrapping your long body around the pipes and trellises of the environment. It's all physics-simulated and the feeling of physicality is emphasised by the controls such that simple movement is the real challenge and joy of the game. Everything else, including a light story and collectibles which guide you through the levels, is just so-so, but they don't detract from the unique experience at its core.
Alec: Concept, meet execution. This is a game about controls, and those controls fit the subject matter so very well. Must admit that difficulty curve got the better of me, and I hope that's taken into account in any future Snake Pass might have.
Oh: one thing I'm not sure we mentioned at the time. There is a button specifically dedicated to changing the snake's expression. I couldn't help but change it to anxious when I got stuck or happy when I finally completed a particularly tricky challenge.
Further reading:
- Snake Pass and the unexplored territory of the game controller
Alec: I feel guilty about praising this when we live in a time of Hitman, but there's no doubt about it: this is a rare return to the solid 7/10 action game of yore. Characterisation and storytelling might be piss-poor, and those x-ray gore shots are tiresomely childish, but SE4 simply offers fantastic (and fantastically large) stealth-action playgrounds to navigate around. Organic, reactive shooting is my kind of shooting.
Further reading:
John: While I strongly wish the game had been bold enough to cling onto its surrealist presentation, and not try to unite its disparate but thematically similar chapters into one coalescing and too-inevitable story, there's still so much to take from this. Jumping from a haunted house to struggling to survive in an Antarctic research station, Stories Untold feels vivid and vital, unsettling and deeply peculiar. Its strangeness is its greatest strength.
Adam: I loved this, though original gamejam entry The House Abandon is still probably my favourite part. Let's just have an ongoing Twilight Zone game series, with guest writers and directors. GIVE ME MORE ANTHOLOGY GAMES
Further reading:
Alec: Must admit I like this a little less in hindsight than I did at the time - there simply hasn't been any resonance from its tale, which was the hallmark of its revered predecessor, Planescape: Torment. Nonetheless, Numenera absolutely achieved what it set out to do, which was to be a dialogue and choice-based roleplaying game, rich in ideas and avoidant of straight violence as a means of problem-solving. I think a director's cut - emphasis on cut, as it gets far too carried away with its own lore - would do it a world of good, and perhaps inExile will yet do that, as they did with Wasteland 2.
Further reading:
Adam: Top-down rogueloveliness. Unexplored uses coding cleverness to create procedural levels that feel hand-crafted in a way that most of the grids and mazes you normally see in this kind of thing never will. It's real-time rather than turn-based, which could have put me off entirely, but it all works so well I cannot complain.
Further reading:
- How Unexplored generates great roguelike dungeons
Pip: Pippin Barr's exhibition of digital water is one of the best things I've seen this year so far. It's not a game, but a space devoted to showing digital water assets which you can use in games. By stripping them of the usual environmental context and putting them into a gallery-type space Barr forces you to look at them anew.
Further reading:
Adam: Is it my favourite game of the year so far? I think it probably is. A collection of interlinked stories about a doomed family, told by the last of the family, returning home to discover THE TRUTH. It's less of a mystery and more of a tragedy, and it's one of the most beautiful and sad magical realist tales I've ever seen, read, heard or played.
Pip: In contrast to Adam, I didn't find Edith Finch to be sad. It's a collection of tragedies but the way those unfold is as surreal adventures with these curious people as the centre of the action. Each tale is so different you'll feel more like you're playing an ambitious anthology than anything else. I love it.
Further reading:
- How Edith Finch's most memorable scene works
Pip: A nostalgia pick rather than a mechanical delight, to be sure, but the trip down memory lane was so worth it for my inner Banjo-Kazooie fan. It's also one of the friendliest games I've seen in a good long while – it wants you to come in and enjoy the daft world.
Further reading:
- Yooka-Laylee is a more open take on the '90s platformer