PSA: mystery roadtrip game Hitchiker is currently free
Sometimes there's a man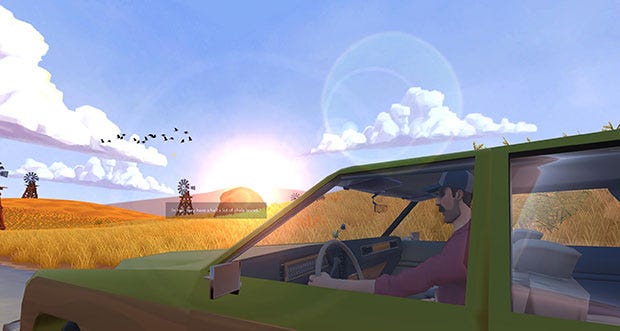 A couple of weeks ago, I wrote with some appreciation of Hitchiker - First Ride, the initial chapter of a game about catching lifts across an uncanny America with a series of oddball strangers. They tell you their stories, and as, as they do, you become embroiled in a wider mystery - and the landscape shifts and drifts into weirdness too. It pulls from Lynch and the Cohens, and it's perhaps a little to blunt about that, but its best trick is to evoke both the pleasant tedium of a long journey and the awkward getting-to-know-you conversations with a perfect stranger.
The big problem? Well, it was a Humble exclusive, bound up in their monthly subscription package - too tall an order for a purely curious mind. More ideal? Making this first chunk of the game free to all comers. Which is exactly what they've done, though only for the next few weeks.

First Ride is available for free to anyone who heads over here by February 2. You'll need to create or sign into a Humble account to download it, but that's it. I know the link takes you to the current Monthly Bundle, but honest, click on Hitchhiker and you'll get a pop-up asking you to sign and then you're onto the download, no payment required.
This first, hourish chapter sees you journeying along a rural tract of America with a loquacious raisin farmer who rather strongly evokes The Big Lebowski's mustachioed narrator, aka The Stranger. You are merely a passenger here, which means your options are limited to conversation, opening the window and eating raisins which may or may not be laced with some kind of psychedelic. But it all grows much stranger, and creepier, as the drive wears on. Not in the ways you might expect, either, but, to be honest, I dug the general driving/shooting-the-shit vibe more than I did the plotty stuff.
All being well, further 'rides' will follow, each with a new driver and their own story. I suspect those won't be free, however - sometimes, after all, the bar eats you.