Horse And Craft: Minecraft Goes Equestrian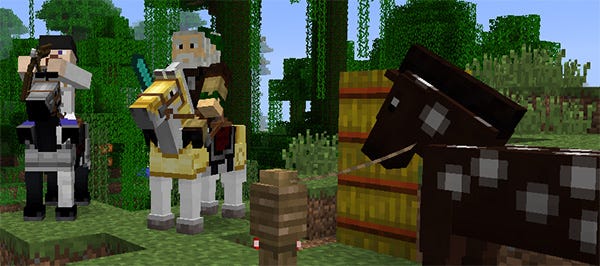 My Little Pickaxe, My Little Pickaxe,
What is crafting all about?
My Little Pickaxe, My Little Pickaxe
Crafting is magic!
I used to wonder what crafting could be.
Until Mojang added horses to Minecraft.

Of the ways in which Minecraft could become even more appealing to the kiddiwink demographic, adding horses is right up there behind giving every player their own Harry Styles (to worship or destroy as one sees fit). An early version of version 1.6 of the little game that could (and did, and then a thousandfold) is available now, with the official release date down as July 1st. While horses are the attention-grabbing addition, there's actually quite a bit of new stuff in here. For instance, donkeys. And mules. And horse armour: the gag that will never die.
Oh damnit, here's the full list.
Added Horses
Added Donkeys, Mules
Added Horse Armor
Added Leads
Added Carpets
Added Hardened Clay, Stained Clay
Added Block of Coal
Added Name Tags (item)
Added Hay Bales
Texture packs are now "resource packs" that also can hold sound etc
Food meter is now drained when healed by full food meter
Removed Herobrine
It really is about time they got rid of bloody Herobrine, he's ruined so many of my Minecraft worlds now.
The new version involves a new launcher, so even if you hang on until July 1 you won't be able to just have your current download update itself. If you want to get going right away, grab the pre-release version of 1.6 for PC, tax avoiding PC and hey let's all just eat fruit PC here.