Host Master And The Conquest Of Humour. Yes.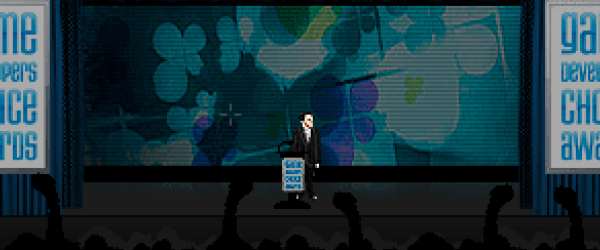 It's the season of GDC award ceremonies. RPS isn't going to be there. We don't like other people and, more relevantly, other people don't like us so we don't get invites. Or, at least, invites which don't read "DIE SCUM" in what we believe is blood. So Double Fine's new online mini adventure Host Master And The Conquest Of Humour is the closest we're going to get to hanging back stage with Tim Schafer. It's a one room affair - or at least, it is for me - with you playing Tim, trying to collect enough jokes to make through his presentation. And, suffice to say, Jokes are found along the way. I got 11 of them, and apparently there's 22. Where's the rest? I don't know. I've got three items left and nowhere left unturned. Gahk! I'm going to stop and play the Path. That'll show you, Doublefine. That'll show you.
Er... you have a try here.