HTC Vive Pre Revision Adds Front-Facing Camera
Coming in April 2016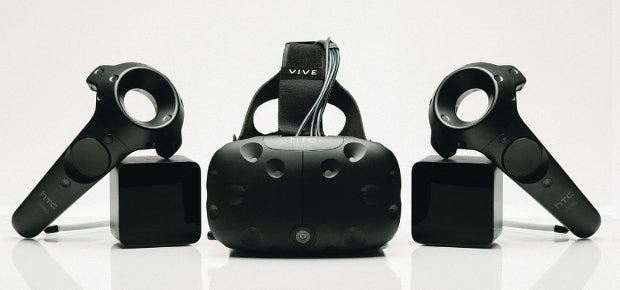 HTC last year teased that the reason for delaying the Vive, the virtual reality doodad they're making with Valve, was "a very, very big technological breakthrough" inspiring them to wait and release a revised model. Now they've revealed what all the fuss was: ergonomic improvements and a new front-facing camera mean that the Vive Pre (as it's called) can crudely simulate what it's like to not wear cybergoggles on your face.
"A newly developed front facing camera allows you to do more both inside and outside your Virtual world by blending physical elements into the virtual space," says the announcement. "Being able to take a seat, find your drink, and carry on conversations without removing your headset is only the beginning of what's possible."
As much as I might poke fun, that is an awfully handy improvement. While many cybergoggle systems simply have you waving your head around, Vive can take over rooms and track you wandering around. Being able to check you're not about to sit down on thin air seems useful. I'm less convinced by the thrill of conversing without removing cybergoggles. Back in my day, if we wanted to look like aloof planet-hackers, we simply wore our £5 sunglasses indoors.
As for other headset improvements, they say:
"The headset is now more compact and features an updated strap design that provides greater stability and balance. An improved visual system with brighter displays and image refinements leads to increased clarity, and an even deeper sense of presence. On the inside, interchangeable foam inserts and nose gaskets mean the Vive Pre fits comfortably and securely to the user. Vive Pre can also be easily adjusted to suit a variety of facial shapes while remaining compatible with a variety of eyeglasses."
Sounds like the Vive Pre will bring respectable improvements, then, and an earlier model already impressed Graham and Alec. The announcement details improvements to the motion controllers too, if you're curious.
Vive is due to launch in April. HTC and Valve are shipping another 7,000 models to developers now, so there should be more to wander around and jab at once it arrives. Valve are hosting a 'Content Showcase' soon, after this week's 2016 Consumer Electronics Show wraps up, so we should see more of what's coming.
This does somewhat steal the thunder of Oculus Rift opening pre-orders tomorrow.