HTC Vive Pro is going to cost £799, but normal Vive gets price cut to £499
Better start saving...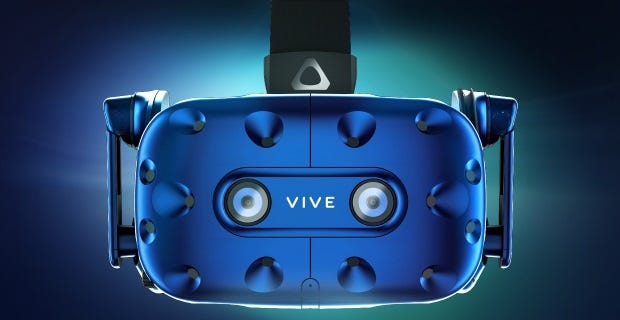 HTC's new-fangled Vive Pro finally has a price and release date. If you want a piece of its higher resolution screen, fancy pants headphones and slightly comfier design, these blue-tinged VR cybergoggles are going to set you back a whopping £799. Pre-orders, you'll be happy to hear, are also open right now at Vive, GAME, Overclockers and Scan.
If all that sounds a tad steep, however, you'll be even happier to hear that the regular Vive has now had £100 knocked off its original price, taking it down to a mere £499. For those that do have the cash for the Vive Pro, however, you won't have to wait long before you can get it into your virtually rendered hands, as headsets will begin shipping from April 5th (in just under three weeks time at time of writing and the second anniversary of Vive's original commercial shipping date) if you buy one between now and June 3rd, says HTC.
To recap the details announced at this year's CES, the Vive Pro's dual OLED displays now come with a combined resolution of 2800x1600, giving you a 78% increase in resolution over the regular Vive. It also has integrated 3D spatial headphones and a built-in amplifier for a more immersive audio experience (the original Vive came sans headphones, you may remember), and a redesigned head strap that's more evenly balanced and has improved comfort options for glasses-wearers.
All Vive Pro buyers who get one between now and June 3rd will also get a free six-month subscription to Viveport thrown in as well, HTC's premium VR library that lets you use up to five titles per month from a selection of over 400 apps. Buy one after June 3rd, however, and you'll only get a free Viveport subscription for two months. The same two-month offer applies to anyone buying a regular Vive as well.
Just remember that Viveport's monthly subscription price is due to go up to £8.99/month on March 22nd, so if you'd rather lock in its current price of £6.99/month until the end of the year, you better get subscribing now.
Alec recently had a chance to try the Vive Pro for himself (link at the top), concluding that, 'When I got home I looked at my 'old' Vive with a new dismay, but I didn't feel a burning need to own a Pro in the way I did that first Vive after my first experience on one. Sure, I'd like the upgrade, but not to the extent that I'm going to spend hundreds and hundreds of pounds on it.'