Humble Very Positive Bundle 2 available now, featuring Oxenfree, Shadow of War, and more
Loads of orcs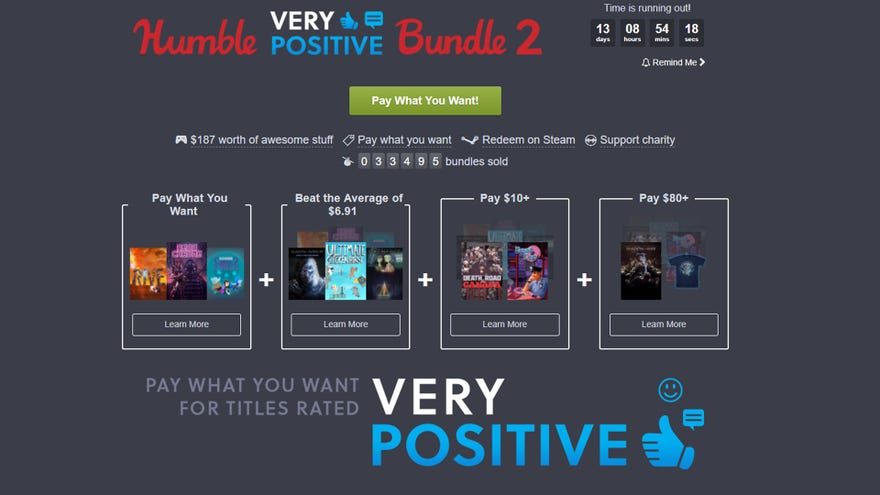 Have you heard the one about Humble making a new Bundle? It's a good one. Rather, it's a Very Positive one.
Following on from the original 'Very Positive' Bundle back in May this year, Humble has brought the idea back for another go - in the Humble Very Positive Bundle 2, funnily enough. The collection of games brought together here all feature Steam ratings of 'Very Positive' or above and while we can't always rely on those ratings as proof of a game's intrinsic qualities, as recent happenings have taught us, rest assured these games are quite good.
In this bundle, you'll be able to get your hands on games like Rive, Neon Chrome, Oxenfree, Ultimate Chicken Horse, Death Road to Canada, Shadow of Mordor Game of the Year Edition and even next month's release of Middle-earth: Shadow of War, if you pay enough. As with all Humble stuff, a portion of the proceeds will go directly to charity - in this case, the chosen charity is Action Against Hunger, though you're welcome to change to a charity of your choice.
On top of the games themselves, by picking up the bundle you'll also be getting soundtracks to a few of the games, as well as 10% off your first month of Humble Monthly, which is a nice bonus as well.
Here are the games up for grabs:
Pay what you want
RIVE: Wreck, Hack, Die, Retry
Neon Chrome
Dungeon Souls
Pay more than the average
Middle-earth: Shadow of Mordor Game of the Year Edition
Ultimate Chicken Horse
Oxenfree
Pay $10 (£7.40) or more
Death Road to Canada
Beat Cop
Pay $80 (£59.22) or more
Middle-earth: Shadow of War
Shadow of War T-Shirt
Yep, that last tier will even get you a Shadow of War T-shirt as a nice reminder that you did a good thing and are a relatively lovely person. Or that you really like Orcs.