New Humble Bundle: Rocket League, Spelunky, Nidhogg
Good video games, cheap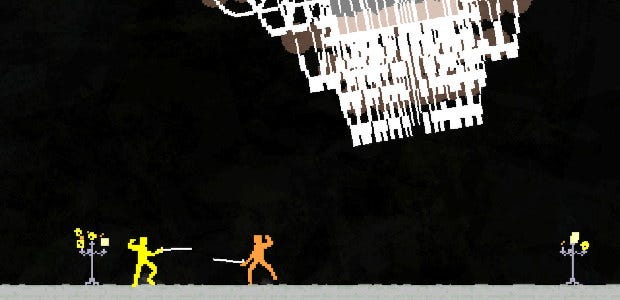 The latest Humble Bundle is a good'un, with games including Spelunky, Rocket League, Nidhogg, and Skullgirls going cheap. The first three of those are modern PC classics, I'd say, and Skullgirls isn't half-bad either. The Humble Revelmode Bundle has more games too, obvs.
It's the usual Humble Bundle arrangement: its games are divided across tiers, and paying more gets you access to more.
The star of the lowest tier is Nidhogg, an astonishing duelling game which has been the heart of many a good local multiplayer party. Also in this tier are multiplayer futuresport Robot Roller-Derby Disco Dodgeball and Choice Chamber, which is one of those games which let Twitch viewers mess with the player by voting for disasters. Technically this tier has no minimum, but Humble doesn't give Steam keys to folks who pay less than $1 and only Choice Chamber is available DRM-free too so...
Paying more than the average price - $5.90/£4.48 as I write this - will also get you wonderful roguelikelike platformer Spelunky, fighting game Skullgirls and a load of DLC for it, roguelikelike RPG platformer Roguelands, and the ball-hitter Golf With Your Friends (currently in Early Access).
Lastly, paying at least $15 (£11.40) also gets you our favourite game of 2015, the carballer Rocket League.
All games come with Steam keys and a few have DRM-free versions too.
As ever, you can split your payment as you please between charity, the games' makers, and Humble. This bundle, by the way, is organised with Revelmode - the "premium content network" co-founded by wavy Tube man Felix 'PewDiePie' Kjellberg. In case you were wondering why they were calling it the Humble Revelmode Bundle.