Humble Bundle: Grow Home, Gunslinger, Rayman For $1
Just as good the second time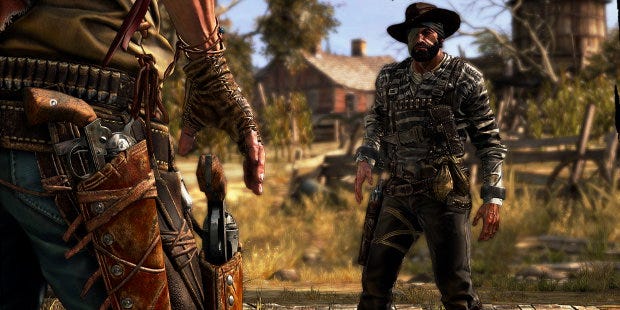 The latest Humble Bundle is a repeat of one from February, but it'll be a mighty wild day when I'm bored by seeing Call of Juarez: Gunslinger, Grow Home, and Rayman Oranges for less than a quid. Only one dollar for the lot! What a bargain! Paying extra can get you games like Far Cry 3 too but dang, each of those ground-level games is a stonker.
The Humble Ubisoft Bundle Encore follows the usual pay-what-you-want tiered structure.
Paying at least $1 will get you Gunslinger, Grow Home, and Rayman Oranges. 2013's Gunslinger's a cracking wild west FPS with arcade-y action, doing fun things with its framing as a story being told in a saloon (have you played it? see also Wot John Thinks). 2013's Grow Home is not at all a game I'd expect from modern Ubisoft, a climbing game starring a little robot; John adored it. And Oranges there is a ridiculous and charming 2D platformer. Good stuff! All of those for $1. Amazing.
Paying more than the current average price ($6.56 as I write) will also get you murderplayground FPS Far Cry 3 (it's one of the best FPSs, says our Alec, though he was sensible enough to declare Far Cry 2 better - GOOD), stealth 'em up Splinter Cell Blacklist (here's Wot Stanters Thought), 2.5D spin-off Assassin's Creed Chronicles: China, and more games yet to be revealed. The first time this bundle came around, those extras were the fantastic Splinter Cell: Chaos Theory and goofy spin-off Far Cry 3: Blood Dragon (here's Wot John Thought), so maybe it'll be them again?
Then more than $15 gets you Assassin's Creed Rogue and open-world racer The Crew (John had a gander) on top of those.
Lastly, idk, $75 gets you The Division and a t-shirt too? I personally wouldn't let anything called a Bundle decide my wardrobe.
I don't know why I went into so much detail when the lowest one sells it all. As ever with Humble Bundles, you can split the money between Ubi, Humble, and charity. Most games come as Uplay keys (yes, I know, thank you, please stop leaving such tedious comments), though Gunslinger and Grow Home offer Steam keys instead.
ONE DOLLAR!
ONE!
Amazing.