I Wish Steam's Films Were Games
Fun with confusion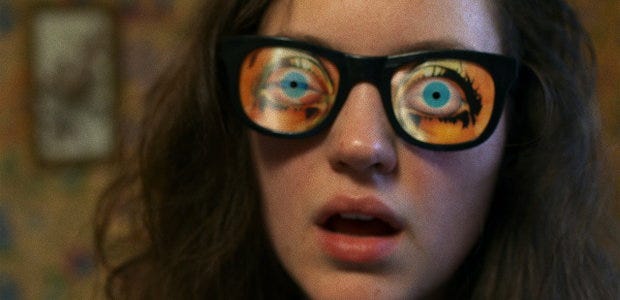 Steam has been a source of crushing disappointment for me ever since it started selling movies too. When I'm poking through the list of new releases and see intriguing names like 'In Search of the Most Dangerous Town on the Internet' or 'How We Got Away With It', I get excited. Then I read descriptions like "Râmnicu Vâlcea, Romania has only 120,000 residents, but among law enforcement experts, it has a nickname: Hackerville" and get jazzed. Then I see screenshots and think "It's an FMV game too!" Five second later, I realise what's going on.
I wish they were games though. For five seconds, they're the greatest game I've heard of all day.
Their names and story summaries are much more interesting than most games, and heck, half of them are about murder anyway. I have no idea how these movies, short films, and documentaries actually are, but I do enjoy those five magical seconds where they exist as games inside my head.
A Survey of Open Space [Steam Page]
"A pair of urbanites embark on a 4000-mile bicycle ride in search of the last wild place in America; to their dismay they find it."
Co-op bicycling walking simulator down surreal procedurally-generated American roads and highways - grand forests, wide plains, and bizarre roadside attractions. Touches of Glitchhikers, Sam & Max Hit the Road, and The Long Way.
Or maybe it's just Bernband chap Tom van den Boogaart's Bird Snapper (free on Game Jolt).
Coffee, Kill Boss [Steam page]
"When ten executives secretly meet to sell off their company, they're murdered one by one in this darkly comedic romp through the halls of corporate America."
First-person stealth social RPG - alliances, double-crossing, and trying to make murders look like accidents.
Faraway [Steam page]
"Audrey arrives in the Philippines with a mysterious mission. She enlists the help of two locals, Hazel and Rey, and an American, Nick. They must cross 300 miles, ward off a local motorcycle gang, and keep from killing each other."
Open-world RPG with no going back.
Feeding Mr. Baldwin [Steam page]
"A house sitter bites off more than he can chew when a corpse shows up at the estate he's watching. Desperate to make a good impression, he convinces an old friend to help clean up the mess but the body count quickly increases."
Viscera Cleanup Detail meets reverse-Hotline Miami. Messy kills are easier but take more work to clean up, and when nosy neighbours come peering through the windows...
How We Got Away With It [Steam page]
"Returning home from jail just before the arrival of his friends for their annual reunion weekend, Henry discovers a shocking tragedy. His rash and unpredictable response sets in motion a chain of events of secrets, revenge and murder that will forever change the course of everyone's lives."
Like Indigo Prophecy's opening, but continuing to be like that - no fistfight with the Internet.
In Search of the Most Dangerous Town on the Internet [Steam page]
"Râmnicu Vâlcea, Romania has only 120,000 residents, but among law enforcement experts around the world, it has a nickname: Hackerville. In the last year alone, $1 billion was stolen in the U.S. by Romanian hackers. Convicted criminals with nicknames like Guccifer and Iceman have been caught breaking into the email accounts of NASA, Hillary Clinton and George W. Bush—but that's just the beginning. The world is finally waking up to the realities of cybercrime and the threats that it poses to our society. Is there anything we can do to stop these individuals and protect ourselves from the most dangerous town on the internet."
First-person open-world RPG with Uplink-style hackery to track people down. Mistrust, language barriers. Then you realise they're watching you back. Rare melee combat, rarer guns.
See You Next Tuesday [Steam page]
"An odd pregnant girl disrupts the lives of her campy recovering alcoholic mother and vulgar lesbian sister during a nervous breakdown."
Man, whatever, I just want this.