IF Author Raises $10,000 In One Day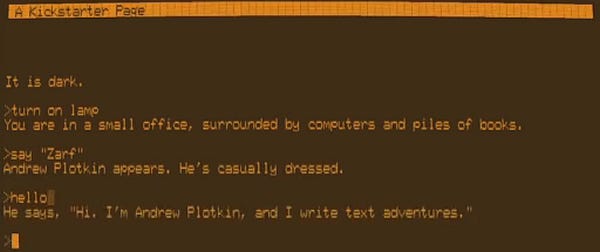 Next, another tale of glitz and glamour from the PC's drug-soaked, rock-n-roll interactive fiction community. And by "another" I mean "possibly the first, ever".
Highly respected IF author Andrew Plotkin (Spider and Web, Shade and much more) wants to make the switch to writing IF full-time. He created a Kickstarter page, saying that if he raised $8,000 in a month he'd proceed across the rocky tundra of self-employment and start making IF games for iOS devices (a pledge of $25 or more WILL get you a PC version on CD, though). What happened next? Well...

Plotkin proceeded to smash the $8,000 target in hours, break $10,000 in a day, and the total currently stands at $12,894 after some 36 hours. Madness.
EDIT: It's now $14,148, five hours after I published this post!
One curious thing I have just noticed is that the number of contributors is only 213. People pledged an extraordinary average of $60, making full use of the range of rewards available on the page. Anyway, here's Andrew's video:
Awesome. Thanks to RPS reader Andrew "War Bastard" Davis for tipping us off about this.