Resisting The Obvious Quotes: Mafia Devs Semi-Shut Down
Whither Mafia 3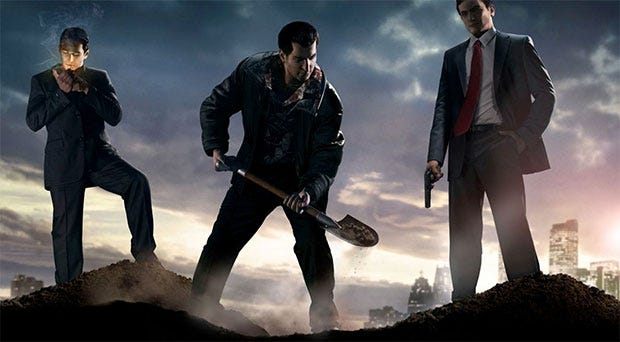 They might call it a "restructuring", but whatever word one applies to it, it's bad news for a venerable studio with a rich heritage. In this partial death, let them once again assume their true mantle. 2K Czech were and always shall be Illusion Softworks, creators of Hidden & Dangerous, Mafia and not enough else. Subsumed into the 2K mass in 2007 and renamed in 2008, sadly it did not reach the dizzy heights of contemporaneous acquiree Irrational, as its expensive sequel to Mafia proved disappointing (though it does have its passionate fans). Tennis sequel Top Spin 4 was its sole release subsequent to that, and as of today's revelation that the studio's Prague-based headquarters has been closed down by 2K, perhaps we shall never know if Illusion Softworks might have one day reclaimed their reputation for ambitious, complex and atmospheric historical action games.
Although reports today (including this one) have something of the eulogy to them, this is not in fact a full closure.

Some aspect of 2K Czech lives on yet, as a few key staff are being transferred to offices in Brno (the Czech Republic's second city) and Novato, Calfornia. However an official 2K statement suggests this remnant will play a support role to other, larger studios rather than tackle its own projects - but time will tell. As I understand it, Brno used to be the headquarters in the past, but in recent years Prague assumed lead duties.
Said a committee of executives parsed by a robot in a statement to Eurogamer (who broke this news), "This transition will both strengthen the integration of the 2K Czech team with our award winning development teams, and better align cross-functional business practices. As part of this realignment, we are adjusting our staffing levels, resulting in the elimination of some positions."
TRANSITION...
INTEGRATION...
REALIGNMENT...

ELIMINATION
The big question is what this means for Mafia 3, long and heavily rumoured to be in the making at 2K Czech, and which at one point was alleged to be a potential Sexbone and Pay Attention For launch title. The smart money would be on it accompanying those reportedly 'key' staff making the move to 2K's Californian offices, and if true who knows what studios' name the box will ultimately bear?
The very best of luck and big hugs to those who have either lost their jobs or find themselves leaving their homes as a result of this.