Forever Run: Infinity Runner Passes The Post In June
Sci-fi first-person sprinter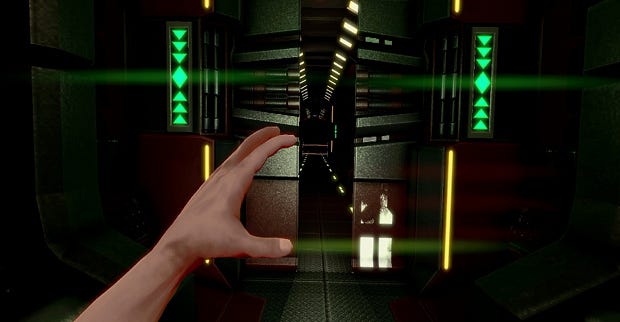 Doddering old fools that we are, sometimes here at RPS we miss games when they're announced. Perhaps we were busy shouting at the television, or simply enjoying a nap to escape the bright afternoon light. That's okay. First-person sprinters are always of interest, no matter how late we come across them.
Master Reboot developers Wales Interactive last month announced Infinity Runner, a run 'em up with a chap dashing about to escape a collapsing spaceship. So we decrepit folks might better imagine we've tossed our walking sticks aside, it has an Oculus Rift mode too, and multiplayer so we can pretend we're out with our friends again.
Before you get too carried away with your hopes and imagination, no, it doesn't seem it will have the path-picking joys of Mirror's Edge. From the trailer, it looks far more like a 3D realisation of linear, timing-based 2D infinite runners like Canabalt and others you may have played on your pocket telephone. Based on the trailer, that is. It does have a little first-person fisticuffs too.
The multiplayer will let up to 32 folks, Wales say, "battle it out head to head to find out who's the ultimate Infinity Runner." With the exact shape of the game not entirely clear, that's a bit mysterious too. One broadly assumes it'll be a big race rather than a fight.
Infinity Runner's due June 2 on Steam at £6.99, Wales confirmed on Monday.