Klonk! Powie! Zowie! Injustice 2 punches onto PC
And other onomatopoeias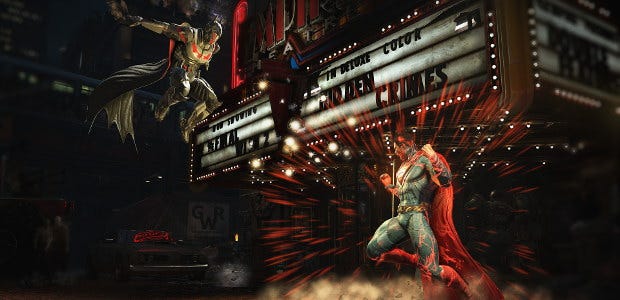 Superheroes, supervillains, and superantiheroes from DC Comics are now kicking seven shades of heck out of each other in Injustice 2, the new fighting game from Mortal Kombat developers NetherRealm. The supersequel hit consoles in May and finally launched on PC today. Our Adam already played a bit on PlayStation 4 quite likes it so good, grand, ta.
Superpeople: can they just not? They cannot. And so heroes and villains return to growl and give each other proper serious kickings. The drama goes down in a story campaign which bounces around between characters and has cinematics aplenty. It also packs local and online multiplayer, obvs, plus a challenge mode which throws extra conditions and problems into fights.
Injustice 2 is out now on Steam for £40/€50/$50. Or it's £70/€80/$80 (an ungenerous conversion to £, there) for the Ultimate Edition which includes nine DLC characters (some still to come) along with some cosmetic bits. Those who buy it by November 21st will receive the DLC character Darkseid for free. That mopey fella usually costs £5 on his tod so it's not bad, and post-launch bonuses sure beat pre-order ones.
In the time since we last posted about the game, publishers Warner Bros. have revealed the final round of its initial DLC characters. I can now tell you that yes, the Teenage Mutant Ninja Turtles are coming to Injustice 2. Why wouldn't they? Killer Instinct has a Battletoad these days, after all.
Oh, and though the Hellboy DLC fighter from the previous round hit consoles a few weeks ago, he'll be a bit late to PC. Hurry up, Big Red.
All onomatopoeias are, as ever, from this wonderful Batman collection.