80 Days Devs Announce New Game, Not An Adaptation
The return journey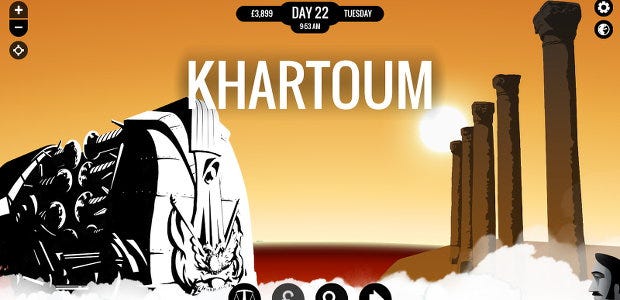 A new game from Inkle, the studio behind the delectable choose-your-own-adventure 80 Days [official site] (and the soon-to-be-on-PC Sorcery! series), was always going to be a reason to celebrate, but news that they're making their own world and characters from scratch this time is doubly so. 80 Days was at its best when it broke away from the well-known tale of Phileas Fogg in favour of alt-history noodling and charming, surprising characterisation.
They don't have a name for the new game yet, but they have shared a few more details, including that "after four years of adapting books - interactive and otherwise - into great, interactive reading experiences, we're looking to expand outwards a little."
News that they'll be using Unity for this one isn't enormous - that's what the PC version of 80 Days uses - but it will mean that a day-and-date PC version is more likely. We had to wait a fair old while for 80 Days to trickle down from mobile, after all. More enticing is that it will use "a next-generation version of our ink writing engine", which apparently means more flexibility and power. Given the spider's web of options already underpinning 80 Days and the Sorcery series, going bigger is an impressively tall order.
It's going to be heavily dialogue-based, which is almost a given at this point, but will be even more based around a partnership than 80 Days' tale of Fogg and Passepartout was. They also talk about it being "beautiful", so we can hopefully expect a step up from 80 Days' stately but minimalist art.
The big one, of course, is that "it's going to take you somewhere you have never been before. For the first time, we aren't adapting anything, but starting from scratch." 80 Days was of course based on the Verne novel, while Sorcery came from some old Steve Jackson books. In fairness, 80 Days went off in so very many directions from the source material that it might as well have been their own world, but it's always good to see creators free to play in their own inventions rather than be dependent on the familiarity of someone else's.
Features and whatnot are undisclosed as yet, primarily because they claim 80 Days went through something like 10 reinventions before settling on its final form, so they don't want to marry themselves to anything just yet.
Hard not to be optimistic, whatever it is - 80 Days was so fresh and so charming, and between that and Sunless Sea we've had something of a banner year for texty games. Excited to see what Inkle come up with when, presumably, a pretty decent budget is thrown into the mix.
We recently gave 80 Days our best-written game of 2015 award, and here's why.