Intel launch 9th Gen processors ahead of possible CPU shortage
You might want to take a moment to process this news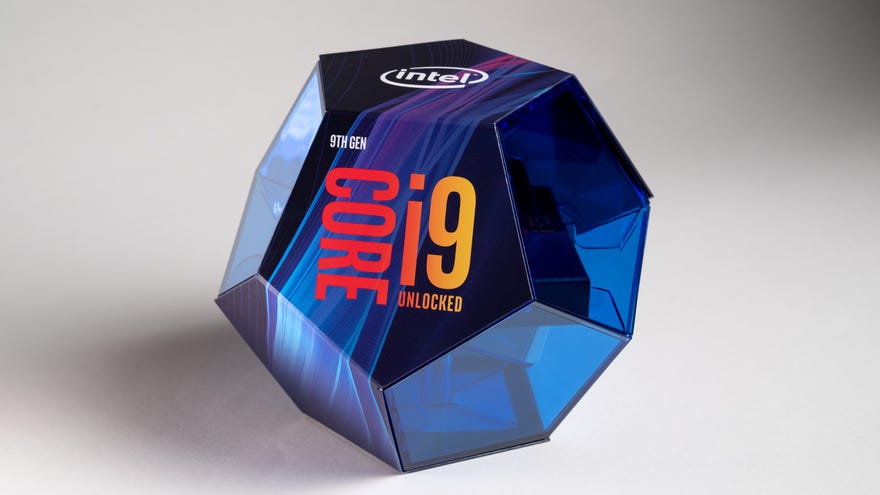 Intel lifted the lid on their 9th Gen desktop processors this afternoon, giving us a glimpse of what's coming next after their current crop of 8th Gen Coffee Lake chips. Leading the pack is their flagship Intel Core i9-9900K, an 8-core, 16-thread CPU that can Turbo Boost all the way up to 5.0GHz.
However, the news comes little over a week after Intel's CFO and interim CEO Bob Swan issued an open letter to customers and partners warning of an imminent CPU shortage due to increasing "pressure on [Intel's] factory network." If you're thinking about building a PC any time soon, you might want to grab one of Intel's current Coffee Lake processors now instead (or, indeed, one of AMD's rather good Ryzen+ CPUs) before they disappear for the foreseeable future.
Before we get to the doom and gloom, let's talk a bit more about them there chips. As per usual, Intel's 9th Gen of desktop CPUs will include Core i3, Core i5 and Core i7 variants (the K versions of which will come unlocked and primed for overclocking), but this time there will also be a new 8-core Core i9 category available as well, marking the first time these previously workstation-grade CPUs are being aimed at regular PC peeps.
Most importantly, despite sharing the same underlying Coffee Lake microarchitecture, all 9th Gen chips will come with built-in silicon-based defences against the Spectre and Meltdown security flaws that have plagued both Intel and AMD since they first came to light at the beginning of the year. They'll also be compatible with all of Intel's existing 300-series of motherboards after a BIOS update, so you won't need to fork out for a new board, but those looking to get the best out of their new 9th Gen chips may want to consider getting one with Intel's new Z390 chipset, which was also announced today alongside the three processors.
Here's a handy chart summarising the three new CPUs announced today:
| CPU | Cores / Threads | Base Frequency | Maximum Boost Frequency | Cache | TDP | Price |
| --- | --- | --- | --- | --- | --- | --- |
| Intel Core i9-9900K | 8/16 | 3.6GHz | 5.0GHz | 16MB | 95W | $488 |
| Intel Core i7-9700K | 8/8 | 3.6GHz | 4.9GHz | 12MB | 95W | $374 |
| Intel Core i5-9600K | 6/6 | 3.7GHz | 4.6GHz | 9MB | 95W | $262 |
The bad news is that, despite pre-orders for Intel's 9th Gen chips opening today, they and their current 8th Gen Coffee Lake cousins may well become increasingly difficult to get hold of in the coming months. As mentioned above, Intel have warned of an imminent CPU shortage on their website, and processors at the budget-end of the scale look like they'll be the ones hit hardest by any potential stock shortages.
"We're prioritizing the production of Intel Xeon and Intel Core processors so that collectively we can serve the high-performance segments of the market," said Swan. "That said, supply is undoubtedly tight, particularly at the entry-level of the PC market."
That's not to say Intel aren't trying to soften the blow of this possible stock problem. They said they not only believe there are enough processors on hand to hit their financial targets outlined in July earlier this year, but they're also pumping record-levels of cash into their various manufacturing sites, which they hope will help increase supply to combat the increasing demand.
Intel also confirmed that they're making progess on their 10nm (nanometer) manufacturing process, which will almost certainly form the basis of the company's next-next gen CPUs. "Yields are improving and we continue to expect volume production in 2019," says Swan.
Only time will tell whether Intel's measures will prove effective enough to prevent the CPU equivalent of the Great Graphics Card Drought of 2018, but needless to say, if you're in the market for a new CPU, it might be wiser to get one sooner rather than later.