Intel and AMD team up for new 8th Gen Core processor
Phenomenal cosmic power, itty-bitty living space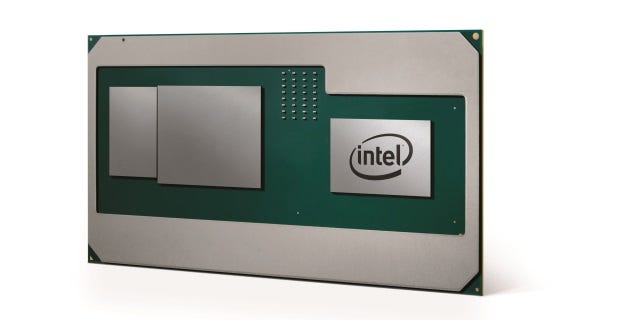 Two weeks ago, AMD unveiled its Ryzen Mobile processors for laptops, promising superior graphics performance for ultra-slim devices. Now, it's Intel's turn, as it's just announced a brand-new 8th Gen Coffee Lake CPU that aims to deliver that same premium gaming experience for devices measuring less than 16mm thick. The clincher? AMD's the one providing the onboard graphics. Funny how these things work out, isn't it?
Using a new semi-custom graphics chip, Intel's new 8th Gen Core H-series processor should, in theory, be able to run AAA games without the need for a bulky gaming laptop, the companies claim. We'll have to wait and see how it pans out in practice, of course, but if it brings us closer to playing Assassin's Creed Origins on the train without cutting the hypothetical throat of our laptop's battery life, then I'm all for it.
The reason why we haven't seen laptops like this before is because this new chip is based on Intel's 'Embedded Multi-Die Interconnect Bridge' (EMIB) design. This uses a tiny amount of silicon, reducing its footprint to "less than half that of standard discrete components on a motherboard," according to Intel. It also incorporates a new power-sharing framework, making everything that much more efficient.
Combine that with onboard HBM2 memory, which uses less power and takes up less space than your typical GDDR5 memory, and this new chip should give manufacturers a lot more freedom when it comes to designing new types of devices, including laptops, tablet hybrids, and mini desktops. Intel expects the first EMIB devices to start arriving by the end of March next year, but all other details, including which manufacturers will be making them and how much these new laptops are going to cost, are still thin on the ground. We'll keep you posted as soon as we know more.