Intel's Core i7-8086K is their best CPU yet - and there are 8086 of them up for grabs
Core-blimey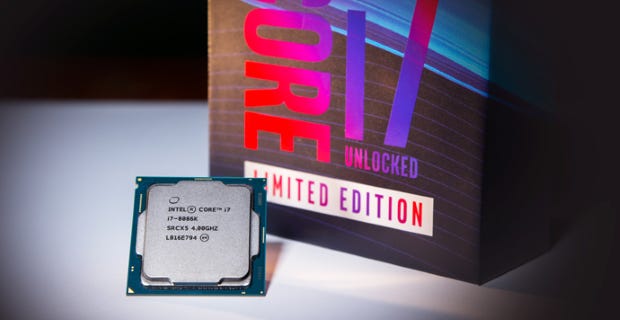 In happier Computex news today (which doesn't involve having the vague release date of RTX graphics cards being dashed from sometime this autumn into the vague nothingness of "a long time" into the future), Intel have announced their very first CPU with a 5.0GHz turbo frequency to celebrate the 40th anniversary of their x86 architecture, the limited edition (and very aptly-named) Intel Core i7-8086K - and to mark the occasion they're giving away 8086 of them for absolutely nothing.
Harking back to the original Intel 8086 processor that first ushered in the concept of x86 computing, the new Core i7-8086K is the first six-core, 12-thread processor with integrated graphics in a 1151-pin package that supports a 64-bit instruction set, according to Intel. It has a base clock speed of 4.0GHz (up from 3.7GHz on the Core i7-8700K), but as the K in its model name suggests, it's also unlocked for overclocking. It also comes with a 12MB SmartCache, and a TDP (thermal design point) of 95W.
50,000 of them will be made in total, but if you fancy trying to get one of the aforementioned 8086 that are up for grabs, you'll need to enter Intel's Core i7-8086K sweepstakes by visiting their website and registering for your chance to win - provided you live in the US, Canada (excluding Quebec sadly), UK, France, Germany, South Korea, Taiwan, Japan or China (not including Hong Kong).
You can only do so, however, in two days time when Intel's countdown clock hits zero. This will be at 5pm PDT on June 7th (or 1am on June 8 in the UK), and you'll then have 24 hours in which to register.
Of those 8086 processors up for grabs, it appears just 500 of them will be available for those entering in the UK. There's no mention of how many will be available in other territories, but if you'd rather secure one the old-fashioned way, Intel says the Core i7-8086K will also be available to buy outright "from popular online retailers and technology suppliers where you'd typically expect to find other Intel boxed processors" starting on June 8 at 12.01am PDT (that's 8am on June 8 in the UK), which is the actual anniversary date of the first Intel 8086 processor.
Intel neglect to say how much you'll be expected to spend on the Core i7-8086K, of course, but given a boxed Core i7-8700K currently goes for around £315 in the UK and $350 in the US, I expect you'll probably be looking at spending somewhere near the £400 / $400 mark. To see how it comes to the rest of Intel's 8th Gen processors, why not have a read of our handy Intel Coffee Lake primer while you're here, eh?